Justice Saqib Nisar to be new Chief Justice from Dec. 31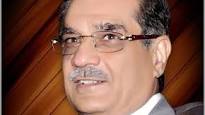 ISLAMABAD, December 07 (DNA): Justice Mian Saqib Nisar, has been appointed by as the Chief Justice of Pakistan with effect from December 31 of this year.
A notification to this effect has been issued by Ministry of Law and Justice on Wednesday.
The notification states, "In exercise of the powers conferred by clause (3) of Article 175A read with Article 177 of the Constitution of Islamic Republic of Pakistan, the president is pleased to appoint Mr. Justice Mian Saqib Nisar, the most Senior Judge of Supreme Court, as Chief Justice of Pakistan with effect from 31.12.2016."
Justice Nisar was born on January 18, 1954 in Lahore. He passed his Matriculation from Cathedral High School, Lahore and Graduation from Government College, Lahore, Bachelor of Law was done from the University of Punjab in the year 1979-80.
Later, he joined legal profession as an Advocate on May 2, 1980, was enrolled as an Advocate of the High Court in 1982 and as Advocate of the Honorable Supreme Court of Pakistan in 1994.
He was elevated as the Judge of the High Court on May 22, 1998 and of the Supreme Court of Pakistan on February 18, 2010.
Also, he was the member of a delegation representing Pakistan in "International Youth Conference" held in Libya, Tripoli in 1973.
The incoming CJP had been practicing in Civil, Commercial, Tax and Constitutional Law. He had appeared in large number of important constitutional cases both in the High Court and the Supreme Court.
He was elected as Secretary General of Lahore High Court Bar Association in the year 1991.
It should be mentioned here that he was appointed Federal Law Secretary on March 29, 1997 and it is for the first time in the history of the country that some one from the Bar had been appointed to such post.
Justice Saqib represented Pakistan in International Conference held in Wilton Park, U.K on the subject of "Pakistan and India at Fifty".
He led Pakistan delegation to Manila, Philippines in a conference of the Minister level on the subject "Asia Region Transitional Crimes".
He also led Pakistan delegation on Human Rights to Switzerland, besides in February, 2009 has participated in conference held in Oslo, Norway under the auspices of Pakistan community in collaboration with the Norwegian Ministry of Foreign Affairs on the subject of "Islam and Democracy" and read the paper on the "Role of the Courts in Islamic Democratic Society".