Reception held for helicopter crash survivor Ambassador Emilian ION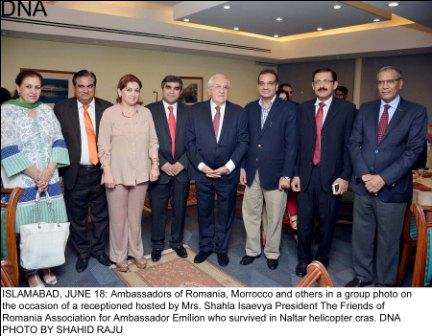 ISLAMABAD, JUNE 18 (DNA) – The Friend of Romania, a Lahore-based friendship society hosted a reception in Islamabad for Ambassador of Romania Emilian ION who survived in helicopter crash in Naltar last month.
Mrs. Shahla Isaeyva, President The Friends of Romania association in her brief speech praised Ambassador Emilian role for promotion of bilateral relations between the two countries.
She extended best wishes to Ambassador Emilian and thanked God that he kept him safe in the deadly crash in which many precious lives were lost.
Mrs. Shahla further said relations between Pakistan and Romania had touched new heights ever since Ambassador Emilian had arrived in Pakistan. Since then, a number of initiatives have been taken for the strengthening of bilateral relations.
Ambassador of Romania Emilian ION in his speech thanked the Friends of Romania association for hosting the event. The ambassador gave a brief account of the Naltar tragedy as a survivor and an eye-witness.
The ambassador recognized services of those who lost lives in the crash and expressed sympathies with the bereaved families.
He on the occasion talked about his services which he had rendered to bring both Romania and Pakistan closer. He said Romania was the 7th largest European country therefore it has a huge market for Pakistani businessmen.
The ambassador invited investors to go to Romania and explore various avenues of cooperation. He hoped that because of recent developments happening in Pakistan, Romania relations trade volume between the two countries will definitely increase.=DNA
============