18 killed as trains collide near Karachi's Landhi Railway Station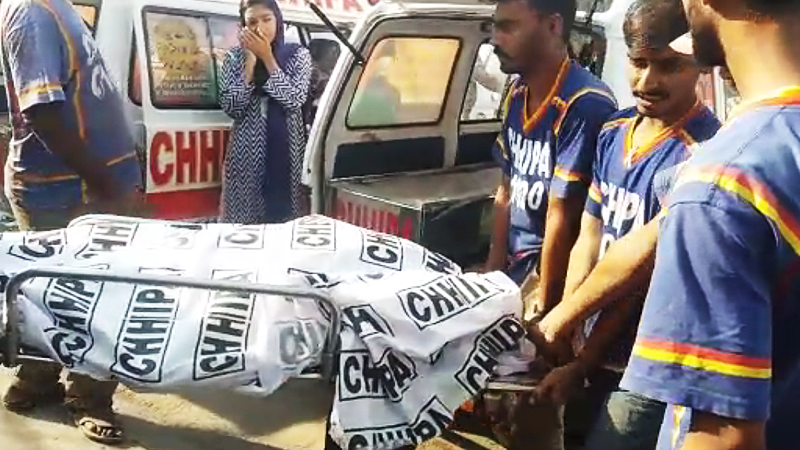 At least 18 people were killed and more than 40 injured when two passenger trains collided Thursday morning near Karachi's Landi Railway Station, hospital officials said.
Witnesses described watching in horror as Zakaria Express from Multan rammed into Fareed Express from Lahore, which was parked there, with the roar of the crash swiftly followed by the screams of people trapped inside.
Railway officials gave green signal to the train coming from behind by mistake, and it went on to hit the train at rest, said Adviser to Sindh Chief Minister on Labour Senator Saeed Ghani.
Administration officials at the Jinnah Postgraduate Medical Centre (JPMC) said 18 bodies were brought to the hospital's mortuary.
At least two carriages from the trains overturned due to the collision. TV footage showed the trains had suffered heavy damage.
Rescue services have pulled out all trapped passengers after cutting through the mangled wreckage. The injured were shifted to nearby hospitals.
The train operation came to a complete halt after the accident.
'Huge' crash
Factory worker Ajab Gul told AFP he was on his way to work when the accident occurred.
"Suddenly another train came speeding in and smashed into the parked train," he said, describing the sound of the crash as "huge".
"There were clouds of dust and smog. After that we heard screams. People inside the collided trains were screaming and crying." Onlookers rushed to their aid, he said, adding that he had helped pull 17 people, including women and children, from the wreckage.
Federal Minister for Railways Khawaja Saad Rafique said in a tweet he was in touch with DS Railway who is supervising the emergency activities. He said an "independent inquiry" will be held to hold accountable those responsible for the incident.
Train accidents are common in Pakistan, which inherited thousands of kilometres of track and trains from former colonial power, Britain.
The railways have seen decades of decline due to corruption, mismanagement and lack of investment.
Earlier in September, four people were killed as a passenger train collided with a goods train near Multan.
Last November, 19 people were killed in Baluchistan after a train's brakes failed and it sped down the side of a mountain.
In July 2015, at least 17 people were killed when a special military train fell into a canal after a bridge partially collapsed.