1000 Faculty Members trained under HEC- British Council Research Capacity Building Programme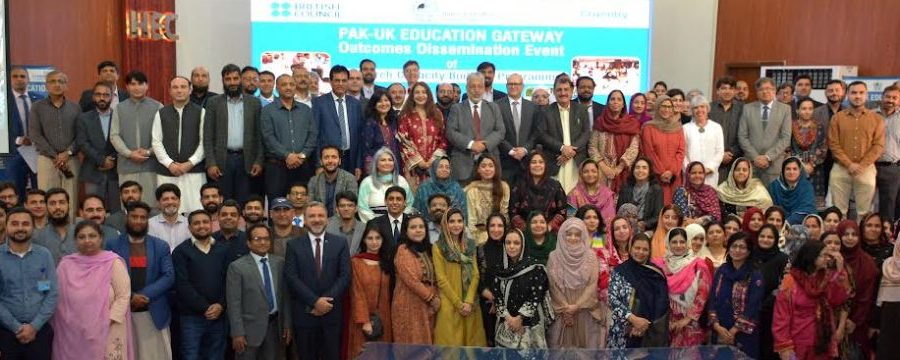 Islamabad, MAR 6 /DNA/ – The Higher Education Commission (HEC) in collaboration with the British Council has successfully completed a one-year-long Research Capacity Building Programme to train the full spectrum of research professionals.
An 'Outcome Dissemination Ceremony' of this series of training programs was held at HEC's Secretariat in Islamabad to mark its successful completion. The ceremony was attended by the Chairman HEC, Prof. Dr. Mukhtar Ahmed and distinguished guests, including Head of Education, British Council Pakistan, Ms. Sarah Pervez, Deputy Vice Chancellor Research of Coventry University UK, Prof. Richard Dashwood, Prof. Elena Gaura, HEC Advisor, Global Engagement Division, Mr. Awais Ahmad and Director General R & ID Mr. Hazrat Bilal.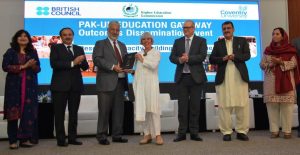 Under this programme, more than 1000 faculty members have been trained on research skills like Research proposal development, project management, research support mechanism, embedding impact pathways into research and application of international best practices in peer review process. Across the research streams, some 71 ORIC professionals, 391 Researchers, 330 Principal Investigators and 237 reviewers have received this training in 23 workshops held across Pakistan.
Chairman HEC, Dr. Mukhtar Ahmed, said, the 'Outcome Dissemination Ceremony' is a testament to the success of the program and the commitment of the HEC and its partners to promoting research excellence in Pakistan". He said that for the last 20 years, HEC has done lot of work in the research arena despite many financial challenges. HEC with the help of government of Pakistan is committed to give exposure to the researchers and making sure that continued investment ensured for higher education sector. The progress evident from many indicators besides research publication show continuous improvement. More than thirty thousand publications are published every year by Pakistani researchers. He urged the programme trainees to become master trainers for other researchers so that they progress to excellent professional researchers and conduct solution oriented and impactful research. He also enlightened that HEC would announce rapid research programmes to address social problems, this call will focus on addressing today's dominant social, economic, and agricultural problems in Pakistan. He concluded that this is high time to pay back to the society through innovation and impactful research.
Mr. Awais Ahmad, in his welcoming remarks said, ''this is the first of its kind holistic intervention by the HEC under the umbrella of PAK-UK Education Gateway. It is encouraging to note that under this project, in the short time span of one year (starting from Feb 2022) more than 1000 principal investigators, research & Commercialization support service providers at ORICs and our grant reviewers have been trained.
The ceremony also included presentations from Prof. Dr. Elena Gaura to give insights to the audience. She shared that co-creation has been heart and soul of this programme. Trainees were fully engaged and actively participated and created solutions for the challenges that they are facing as researchers. She praised the efforts of the HEC and British Council in promoting research excellence and capacity building in Pakistan. Dr. Richard Dashwood shared information of the programs of Coventry University and offered cooperation in areas of mutual interest.
These trainings were held as part of the Pak-UK Education Gateway project, that is a collaborative project of HEC with the BC and is part of a wider effort to strengthen educational ties between Pakistan and the UK. The project aims to promote student and faculty mobility, develop joint research projects, develop HE leadership and enhance the quality of education in both countries.
The Higher Education Commission (HEC) in collaboration with the British Council and the UK government has successfully launched the Pak-UK Education Gateway project. The project aims to provide a platform for Pakistani and British institutions to collaborate and strengthen educational ties between the two countries.