Zulfi is wanted by overseas Pakistanis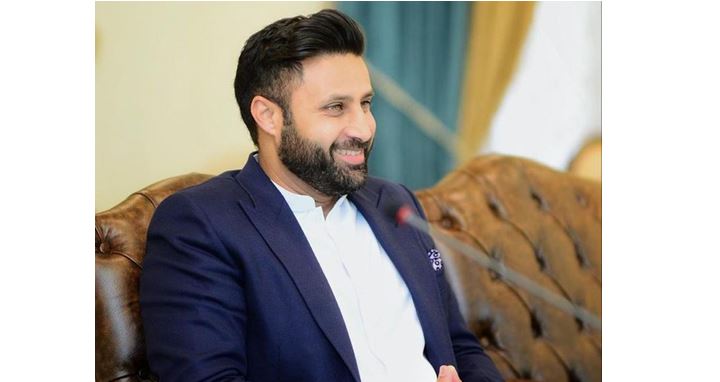 Tazeen Akhtar
PTI government team is mostly criticized for failures but matter of fact is there are some members who are performing well in their respective sectors. Syed  Zulfiqar Abbas Bukhari  is one of them. Prime Minister entrusted him with responsibility of Special Assistant on  Overseas Pakistanis & HRD and he  proved himself equal to the task with results that are not only appreciated by  the colleagues but opposition parties as well. Senate Standing Committee on Overseas Pakistanis hailed the services of Zulfi Bukhari in a letter with signatures from the members of the opposition as well. In the letter, they recognized and appreciated a number of initiatives taken and accomplished by Zulfi.
The achievements include, release of Pakistani prisoners abroad, Reforms in Protector offices for Overseas, Abolishing the condition of NICOP for outgoing labor, Qatar Visa Facilitation Centers in Islamabad and Karachi, Opening of visas for Pakistanis for Kuwait, launching of Naya Pakistan Calling Portal, increasing pension for registered with EOBI, restoration of British Airways to Pakistan. Not only this but another feather in his cap was his winning of case against Reham Khan. It is not only the victory of Zulfi but for Imran Khan as well because the case was about her book. Reham leveled personal allegations on the PM in her book. Her defeat in UK court proves that the other allegations might also have been wrong.
But now a large number of Pakistanis abroad and within Pakistan are astonished to hear that the portfolio can be given to former senator Ayub Afridi. People are asking what is the problem that the Prime Minister replaces the persons like this who bring success stories for him. In Sep 2019, the Prime Minister delivered a speech at UNGA that was welcomed not only throughout Pakistan but in USA and other capitals of the world as well. PM declared his visit as big success but at the same time replaced Maleeh Lodhi who was the incharg of the all arrangements for making the visit a success. Now another change is in the offing, when Overseas Pakistanis are feeling much better than the previous govts and Pakistan is having the benefits of the policies for overseas, tourism and investments. Why it is necessary to take the portfolio back from Zulfi? Ayub Afridi can be accommodated at some other place.
Release of Pakistani prisoners was no doubt a big service to the countrymen in the very first year of PTI government. So far, more than 6,880 prisoners have been released from mainly the jails of Middle East countries. The prisoners are mostly labor class who were unable to fight their cases. Had Zulfi not taken the initiative, they would never have seen the sun again in their life. It not only brought prayers for Imran Khan but fetched huge respect in the eyes of the authorities of those countries that the government of Pakistan is very careful for their citizens. Many were languishing in jails for petty crimes. Zulfi arranged for their financial and legal assistance. The release is still on. 63 Pakistani prisoners were released by Saudi Arabia in August 2021 by latest.
Pakistani labor requires Protector before they can proceed to travel abroad for work. The protector offices were exploiting them. Zulfi took notice and brought reforms here. He sacked 9 top officials who were not ready to cooperate in facilitating the labor and overseas as was the direction of the Prime Minister. He established one-window operation for the convenience of the labor. The reforms in the overseas circle of Pakistan created 1.3 Million new jobs abroad for Pakistanis.
Overseas Pakistanis Foundation generated profit of Rs 111 million after 4 years of losses through austerity and efficiency measures. This is central org regarding the welfare of overseas. Zulfi prepared it in line with the PM's vision for the overseas. Now OPF is all set to receive complaints, queries online and all govt departments are bound to respond on the recommendations of OPF in favor of oversea. Prime Minister said the other day in his speech that overseas would face loss when they started business in Pakistan and their properties would have been occupied. Here OPF has special role. Any oversea Pakistani can approach for guidance to what business to do or for return of his/her occupied property.
Qatar opened Visa Centers in Peshawar and Lahore to facilitate people of Pakistan to visit the country for enhanced social and economic relations. Qatar's two Visa Centers are also working in Karachi and Islamabad. Qatar was the only country with very low number of Pakistanis in contrast with others. Indians in Qatar are more than 7 hundred thousand while Pakistanis are only 1 hundred thousand. Zulfi convinced gov of Qatar to take more Pakistanis. He also made arrangements to upgrade the labor class into refined experts of different fields. Lahore, Peshawer Visa Centres are now fast processing visas of skilled and semi-skilled workers. The number of Pakistanis in Qatar was fast increasing. Over last four years, the number had become almost triple.
Prime Minister advocates investments in country and for that Ease of Doing Business is his slogan and policy. Zulfi played key role in convincing overseas and foreign investors to avail this opportunity. The economy of Pakistan is observing enhance in trade and investments in different sectors. Pakistan needs to highlight the opportunities for the business communities of the world to collaborate only. Zulfi left no stone unturned to reach that target.
Tourism promotion is the dream of Prime Minister. As Chairman of the National Tourism Coordination Board, Zulfi started from domestic tourism and overseas Pakistanis taking the time to explore their home country. This revived the dead sector of tourism but also gained time and finance to attract the foreign tourists as well. Pakistani image abroad was made better and positive and the people watched the buses moving in UK and Australia with posters of tourism destinations of Pakistan.
British Airways resumed its direct flights operation to and from Pakistan thanks to the efforts of Zulfi Bukhari. The flights were stopped after Marriott Hotel bombing in Islamabad in Sep 2008. In June 2019 British Airways Boeing 787 Dream liner departed from Heathrow, London, with 240 passengers on board, and touched down at Islamabad International Airport. In Oct 2020, Lahore welcomed the first flight after gap of nearly 40 years. The flight, BA-259, with 214 passengers took off from the Heathrow and landed at the Lahore.
Prime Minister needs to review his decisions and priorities. His flagship project 5 Million homes is stuck at 1500 homes only. Most of the initiatives, PM announced are at the back burner. PM knows that he already lacks sincere and competent members in his team. Replacing Zulfi will further add to already present chaos. Let him work with his ongoing line and length.