Zhejiang steps up efforts to build model of high-level opening up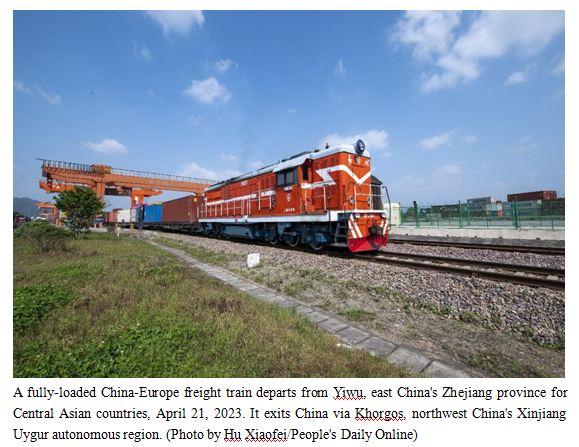 By Dou Hao, Han Xin, People's Daily
The Yiwu International Trade Market in Yiwu, east China's Zhejiang province is known for its oceans of gadgets and small commodities. It is always crowded with Chinese and foreign merchants.
Yiwu is the "world's capital of small commodities," which is well evidenced by the following set of statistics: the city has trade relations with 233 countries and regions, receives more than 560,000 visits paid by foreign merchants every year and is home to over 8,000 foreign-invested business entities
Fu Jiangyan is a woman who runs sock business in the Yiwu International Trade Market. Every day, she advertises and sells her products on Chinagoods, the official trade service platform of the market. Today, more and more factories in the city are joining cross-border livestream commerce to improve their sales.
The Chinagoods platform has moved the physical marketplace to the virtual world. It enables merchants to rapidly locate the commodities they want to buy. It is also connected to physical shops in the Yiwu International Trade Market and 2.1 million small- and medium-sized enterprises in upstream industries. By digitalizing trade, contract fulfillment, financing and monitoring, the platform has upgraded mart procurement.
The prospering service trade and cross-border e-commerce have become new platforms for Zhejiang to expand high-level opening up.
Over the recent five years, the imports and exports of Zhejiang's cross-border e-commerce expanded eight-fold. In particular, the exports jumped 41.6 times.
Digitalization has made the province's foreign trade more resilient. In the first two months this year, the exports of the province via cross-border e-commerce platforms surged 73.2 percent year on year, driving the province's export growth by 1.6 percent.
According to statistics, the trade between China and Central Asian countries via Yiwu-Xinjiang-Europe freight trains increased by 17 times last year from 2013.
"Before the China-Europe freight service was launched, our imports from Spain relied on sea transportation, which took 45 days. The China-Europe freight service has reduced the time to just 16 days," said Zhang Ruizhi from a Zhejiang-based foreign trade company.
The Ningbo-Zhoushan Port in Zhejiang province is the first port in the world to have hit an annual cargo throughput of 1 billion tons. It operates nearly 300 shipping routes, including 122 to Belt and Road countries.
Last year, Zhejiang's foreign trade in goods increased 13.1 percent to 4.68 trillion yuan ($658.63 billion), with both imports and exports hitting new highs.
"Now it takes less than 10 minutes for us to transfer money to our German clients, which is convenient and efficient," said Le Jianzhou, head of a wine trading company in Ningbo Free Trade Zone. According to him, when remitting money to clients in the past, his company had to prepare in advance contracts, invoices and customs declaration forms, and it also took a long time for banks to review these materials.
Thanks to a new policy, authorized companies don't have to submit these materials for cross-border settlements today. All they need to do is to provide relevant information to online banks, which is much more efficient.
In 2022, Beilun district of Ningbo piloted 13 policies to promote high-level opening up, which benefited 274 enterprises. Over 52,900 cross-border e-commerce settlements were completed under these pilot policies, with a total volume of nearly $33.85 billion.
According to an official with the commerce department of Zhejiang, the province's export structure has been constantly optimized. Electromechanical products and high-tech products accounted for 44.7 percent and 10.1 percent of the province's total exports last year.
The structure of foreign capital has also been optimized, the official said. As of the end of 2022, 77,000 foreign-invested companies had been approved in Zhejiang, and the actual use of foreign capital in the high-tech industry took up 48.2 percent of the total. Besides, the province's outward direct investment now goes to 152 countries and regions around the world.