Zardari warns against systematic assault on women rights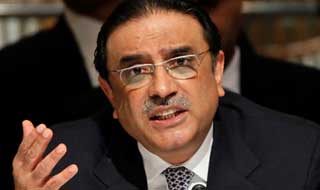 ISLAMABAD, 20 JUNE (DNA) –   In a message on the eve of the 63rd birthday of Shaheed Mohtarma Benazir Bhutto on Tuesday, former President Asif Ali Zardari has warned the people against a systematic assault on women rights in the country and asked them to fight this mindset.
On this birthday of the Muslim World's first directly elected woman Prime Minister it is worrying that, in the name of religion, obscurantist elements are increasingly suppressing women- some even calling for violence against them.
 "We condemn and reject such declarations by semi literate and obscurantist male chauvinists in the name of religion. We condemn and reject the hysterical anti women noises increasingly being made by these elements. The Party vows to fight bigots and obscurantist to the finish".
Zardari also asked people to follow Shaheed Benazir in standing up to militants and extremists and not allow them foist their ideology through brute force. At the same time we must also protect and defend democratic institutions and constitutionalism, he said.
Recalling her last words at public meeting in Liaquat Bagh Rawalpindi asking people to stand up to extremism, dictatorship and to banish poverty and ignorance Zardari said these words served as a road map for making Pakistan a modern and pluralistic state.
Mr. Zardari said that the Party will continue fight militancy and strengthen democracy by fighting forces of status quo and anti-democracy. We also reiterate our pledge to extricate the poor from abject poverty and degradation.
Zadari also paid tributes to those who laid down their lives or suffered in the course of democratic struggle and in fighting regressive elements. On the eve of Mohtarma Benazir Bhutto's birthday we salute them all, the former President said. DNA