Yu Boren:   CPEC has given new meaning  to Sino-Pak relations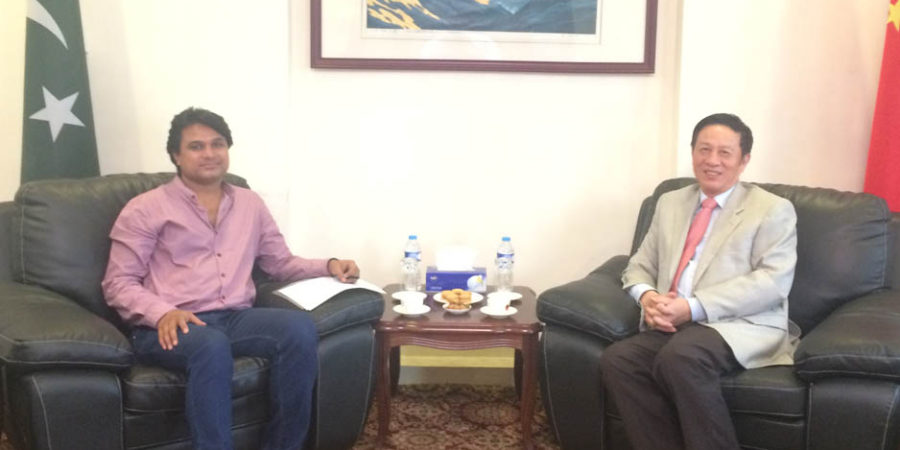 Chinese Consul General in Lahore talks to Centreline & DNA
By Yasir Habib Khan
China and Pakistan are very close-knit neighbors intertwined with the relationship of trust, mutual interest and future goals. With the onset of "All Weather Strategic Cooperative Partnership", China Pakistan Economic Corridor (CPEC) has anchored their lasting friendship giving a new height to Sino-Pak bilateral ties of cooperation and progress.
these views are expressed by Mr. Yu Boren, Consul General of China to Lahore in his first ever interview to Centerline Magazine and Diplomatic News Agency (DNA)
"Our friendship never stumbles even in hard times being a pacesetter for candid relations between countries," he said.
"In April, last year Chinese President Xi Jinping paid a successful state visit to Pakistan. The leader of both countries agreed to uplift our relationship into All Weather Strategic Cooperative Partnership and comprehensively launched the construction of China Pakistan Economic Corridor, which signifies that that development of China Pakistan relation has come to a new stage and the pragmatic cooperation in various fields between our two countries has achieved a new climax,"
When asked about CPEC progress, he stated that now one year has passed since Chinese President's visit and with the committed efforts of both countries' leadership and common support of the people as well as common efforts of the engineers and technicians from both our countries, the construction of CPEC projects is processing speedily and smoothly. And there is a great demand for local engineers and technicians who can speak Chinese not only for the construction for the projects but also for the future management as well as operation of the projects, he adds.
Talking about the promotion of Chinese language, he lauded CM Punjab Shahbaz Sharif for his leadership vision. With his attention and support, Mr. Yu Boren said, the Punjab Government has been sparing no efforts in promoting Chinese language learning. Firstly Punjab government has already sent 66 students to Beijing to learn Chinese language with all expenses covered by the government. And more students will be sent later on, he reveals
"When the students get back from China, they teach Chinese languages in universities and institutes. And those talents who can speak Chinese will serve the construction of CPEC and even become the envoy of China Pakistan friendship. Secondly, with the encouragement of CM, a lot of universities like Government College University (GCU), University of Engineering and Technology (UET), Punjab University, Kinnaird College for women, Institute like Technical Education & Vocational Training Authority (TEVTA), Lahore, Chamber of Commerce and Industry and even Management and Professional Development Department have opened up Chinese course."
Consul-General Lahore disclosed that as consulate General of China in Lahore, our office has always been focusing on the people to people exchange between China and Punjab, especially in the area of Chinese language learning.
"Now two Confucius Institute have already been established in Punjab. One is in Punjab University while other is in Agriculture University in Faisalabad. In the meanwhile, we have invited 6 Chinese teachers from China to Punjab. They will be here in near future and will teach Chinese in GCU, UET and TEVTA. As a token of friendship and support of Chinese Consulate, we have purchase 5 sets of modern language labs from China which will be donated to different universities and institute for Chinese educations once they arrives in Lahore," he explains.
He said that linked by common mountains and rivers, China and Pakistan are good neighbours, good friends and good partners and good brothers. We are not only close in geography, but also in hearts, he opined.
Responding to a question, he said "I believe with the joint efforts of Punjab government and Chinese Consulate in Lahore in fostering Chinese language, language barrier will never exist for the people to people exchange between our two nations will greatly promote the economic cooperation between China and Pakistan and finally extend the true benefits to all the people in both our countries.
Chinese Consul General Yu Boren mentioned that not only Chinese leadership, but people of China also highly value Pakistani leadership for its untiring efforts in enhancing mutual cooperation.
He stressed that The Chinese nation loves peace. "China will stay committed to the policy of affinity,  mutual-benefit and inclusiveness. It will deepen win-win cooperation with its neighbors so as to deliver more benefits to them through its own development.
In a query, he said that it is part of future planning that we will roll out Chinese Cultural Center in Lahore to facilitate China-Pakistan institutional linkages in the cultural and educational fields and promotes a wide variety of Chinese' art and literature.
China sends 500 Chinese language teachers abroad each year with rolling out more than 300 Confucius Institutes in 94 countries. Pakistan is among the top in priority list, he concluded.