Young doctors end sit-in after 'negotiation'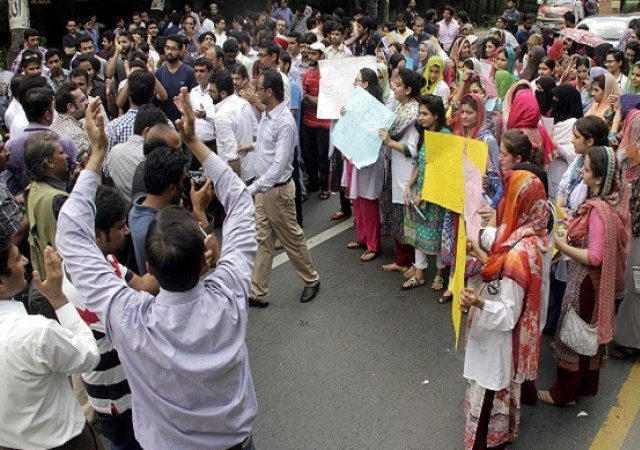 LAHORE, NOV 13, (DNA):  Young doctors of the Mayo Hospital ended their sit-in on Saturday as a "goodwill gesture" surrendering them at the disposal of the health department.
They had been protesting for the last five days against the termination of their two postgraduate trainee colleagues Dr Sheharyar Niazi and Dr Mazhar Rafique claiming that the punishment was awarded against merit.
The PG training of these two medics of the Mayo Hospital was suspended for a period of one year in the wake of an inquiry report in which allegations of torturing an attendant of an indoor patient proved true.
Mayo Hospital Chief Executive Prof Dr Asad Aslam played a key role in bringing the protesting medics to the negotiation table.
He first held a meeting with Dr Sheharyar Niazi who requested the health department not to terminate his colleagues and nurses who were joining him in the sit-in. Realising that Dr Niazi was ready for further negotiation, Prof Aslam visited the sit-in venue and held talks with the young doctors. After an hour-long discussion on The Mall, the young doctors surrendered them to the disposal of the health department.
They ended their sit-in around 12:30pm. Earlier, a heavy contingent of police reached the site and uprooted the protest camps of the young doctors and employees of Water Management who were also occupying the road near the sit-in of the medics.
Lahore Capital City Police Officer Amin Wains and DIG (Operations) Dr Haider Ashraf were leading the police force who convinced the young doctors to leave the main road and shift their sit-in close to 7-Club Road.
"Both Dr Sheharyar and Dr Rafique on Saturday showed their willingness to go for an appeal against their termination orders," Prof Aslam told Dawn. He said 11 striking nurses and five more young doctors of the Mayo Hospital had been either terminated or put at the disposal of the primary and secondary healthcare department for not resuming duties during the five-day agitation.
Dr Aslam said all these medics had also been conveyed to file their appeals against terminations or transfer orders. He said the health department would constitute a high-level committee to hear the appeals of the young doctors in the coming days.
Answering a question, Dr Aslam said all the young doctors and nurses who had joined the sit-in on The Mall to support the suspended medics had resumed duties. "Now, all the indoor departments, OPD and emergency unit are fully functioning at the hospital," he claimed.
Another official at the Mayo Hospital said at least six criminal cases had been lodged against young doctors of the institute for forcibly closing emergency, OPD and indoor departments during protest demonstration. He said FIRs were lodged with the Gowalmandi police station by the administration of the hospital.= DNA
=====