Young doctors close down OPDs across Balochistan after police 'torture'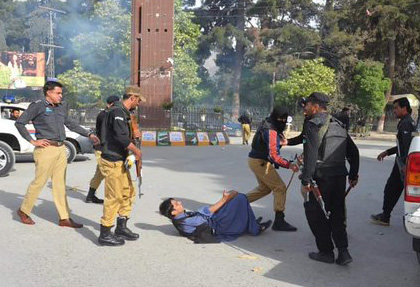 QUETTA: Young doctors closed down all outpatients departments (OPD) across Balochistan after alleged use of force by police during their protest outside Balochistan Assembly.
Memberes of the Young Doctors Association (YDA) were protesting the lack of facilities in Bolan Medical College Hospital and other government-run hospitals when policemen allegedly tortured them.
YDA claims at least eight doctors were injured during the clash with baton-wielding policemen deployed to stop doctors from entering the Red Zone.
"One of our colleagues has lost an eye after police torture", Dr. Hafeez Mandokhail, President YDA told media.
The injured doctor, identified as Dr. Yasir, was flown in a special plane from Quetta to Karachi for medical treatment.
"The government must suspend senior police officers directing violence against doctors", Mr. Mandokhail demanded.
A video posted on Facebook by the group shows policemen beating doctors to keep them from moving forward, while photos posted on social media show doctors injured during the clash.
Patients and attendants from across the province came and left in frustration as no doctors were present to treat patients.
"Rulers have to realise our pain and convince the doctors to come back to their duties", Muhammad Naeem, an attendant with a patient from Balochistan's Pishin district told media.
Balochistan Home Minister Mir Sarfaraz Bugti told media that those responsible for violating the law would be brought to justice, adding that the Balochistan chief minister has already ordered an inquiry into the incident and that no injustice would be meted out to the doctors.
YDA has been demanding provision of basic facilities in government-run hospitals and additional jobs for unemployed doctors in Quetta and other parts of Balochistan.
YDA Punjab is also observing a day of mourning on Friday (today) in solidarity with the Balochistan chapter.