World Economic Outlook forecasts rise in unemployment in Pakistan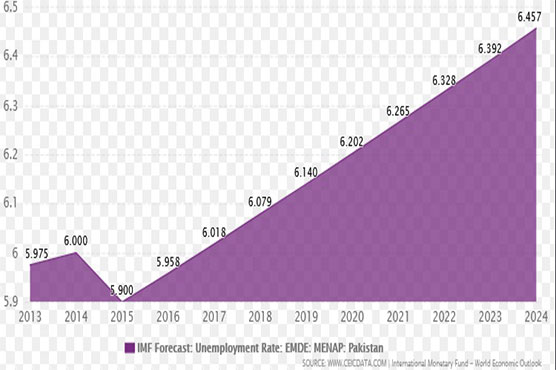 ISLAMABAD (DNA) – International Monetary Fund (IMF) issued World Economic Outlook report 2019 which indicates a rise in unemployment rate in Pakistan.
The World Economic Outlook report indicates that the unemployment rate in Pakistan will increase up to 6.2 percent in the year 2019 from its current position of 6.1 percent.
According to International Monetary Fund, the pace of economic growth is likely to reach 5 percent by the year 2024 while the inflation will decrease to 5 percent from its current position of 13 percent.
The report further said that the current account deficit (when the value of imports exceeds the value of exports) is expected to slip further and will decreased up to 1.8 percent by the year 2024.