Withdrawal of PEMRA (Amendment) Bill 2023: Minister Marriyum Aurangzeb's decision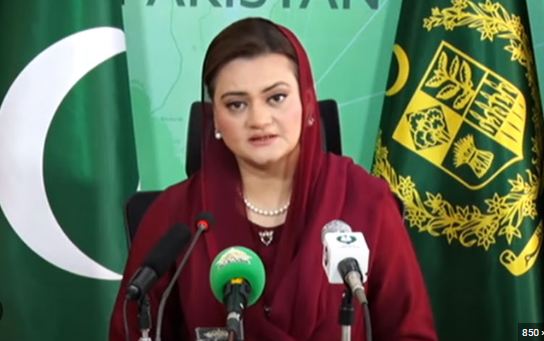 ISLAMABAD, AUG 7: /DNA/ – Information Minister Marriyum Aurangzeb on Monday announced withdrawal of the Pakistan Electronic Media Regulatory Authority (Amendment) Bill, 2023 following objections raised by certain stakeholders regarding specific provisions in the proposed legislation.
The bill — aimed at streamlining the procedures to register and monitor ratings of TV channels as well as elaborating on the definitions of disinformation and misinformation— was passed by the the National Assembly (NA) on August 3.
The Human Rights Commission of Pakistan (HRCP) as well as journalists' bodies had expressed concerns that the law could be misused and "may allow powerful groups or individuals to stonewall journalists seeking both sides of a story".
Additionally, broadcasters had expressed concern over the government move and said that the powers to monitor the rating agencies should be given to advertisers.
During the briefing to the Senate Standing Committee on Information and Broadcasting today, the information minister mentioned that the legislation had been formulated after careful consideration. emphasising that the government also respected the concerns expressed by certain groups regarding specific sections of the proposed legislation.
"We have never compromised on constitutional and democratic principles, nor can we ever do so," the minister told the Senate committee.
She insisted that the government would never compromise on the constitutional right to freedom of media, expression, and civil liberties.
"We will always strive together with the media against coercion, authority, and tyranny."
Aurangzeb stated that the government's intention was to repeal the previous "black Pemra law," and in pursuit of this goal, it engaged in consultations with media stakeholders to draft the new legislation.
Right from the outset, the government was determined to ensure that the bill would be passed only through the consensus of all parties involved, she told the committee.
Afzal Butt, the President of the Pakistan Federal Union of Journalists (PFUJ), who also participated in the Senate body meeting, expressed his appreciation for the emergence of such legislation after many years. He highlighted that the legislation was designed with the aim of safeguarding the rights of journalists.
"The owners of media houses do not pay their workers on time and this bill will be able to support all such workers," Butt said.
Shakeel Masood of Pakistan Broadcasting Association opined that the bill was "crucial" for the media industry and it should not be withdrawn.
All Pakistan Newspaper Society President Sarmad Ali said every section of the bill had been debated and "we support this legislation."
The minister informed the committee that the Pemra Ordinance of 2002 was the "black law" from the Musharraf era, adding that the government wanted to repeal that law.