Whole world will witness PML-N's victory on Sept 17: Maryam Nawaz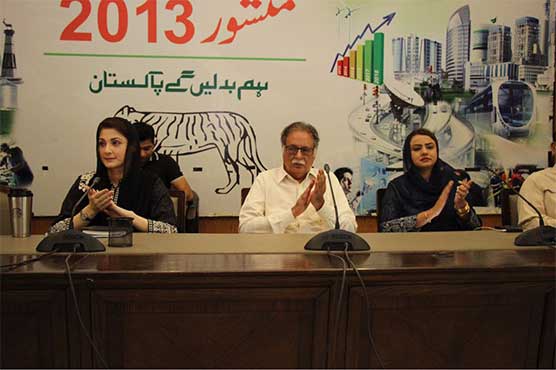 LAHORE, SEPT 10 (DNA) – Maryam Nawaz, who is running the election campaign of her mother Kulsoom Nawaz in NA-120 bye-election, has on Sunday claimed that the whole world will witness Pakistan Muslim League-Nawaz's (PML-N) victory on September 17.
Maryam chaired PML-N's session in Model Town, Lahore to deliberate upon the electoral preparations and to devise future strategies. Senator Pervaiz Rasheed, State Interior Minister Talal Chaudhry and party leader Maiza Hameed participated in the meeting along with PML-N Lawyers Wing.
Maryam Nawaz said Panama case was continued for a year and half, and her family was humiliated. She remarked that the name of her father Nawaz Sharif was not even in Panama Papers. The decision of this case has been announced four times, and will now come for fifth time, she maintained.
She let it be known that PML-N believes in rule of law, and appreciated the role of lawyers for the upholding of constitution in the country. She also reminded that PML-N and lawyers worked shoulder to shoulder against dictator Pervez Musharraf in lawyers movement.
Maryam made it clear that her party is not violating any rule, and the election campaign is being held under the guidelines of Election Commission of Pakistan (ECP). She also praised the enthusiasm of party workers.