We are overcoming serious challneges: Ishaq Dar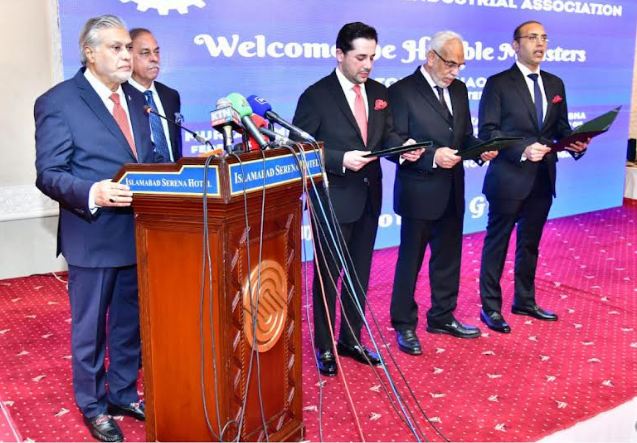 ISLAMABAD, MAR 31 /DNA/ – Finance Minister Ishaq Dar on Friday said the situation is improving and Pakistan will have 12 to 13 billion dollars in reserves by June.
He said that Pakistan is not like Sri Lanka and it will not default on its obligations.
Ishaq Dar said this while speaking at the oath-taking ceremony of the Islamabad Industrial Association (IIA).
Minister for Industries and Production Makhdoom Syed Murtaza Mehmood, newly elected president IAA Muhammad Ahmed, newly-elected senior vice president IAA Karim Aziz Malik, outgoing president IIA Zikria Akbar Zia, President ICCI Ahsan Zafar Bakhtawari, and Malik Sohail, Secretary-General US-Pakistan International Chamber of Commerce Malik Sohail and others were also present at the occasion.
Ishaq Dar said that we took over in 2013 when the country was getting bankrupt but the same was ranked 24th economy in three and a half years. All indicators were positive and Pakistan was respected globally.
By then, we had 24 billion dollars in foreign exchange reserves, interest rates were at six percent and inflation was under control
But later, some experiences pushed the country to the 47th slot in the global ranking of economies and now the whole country is reeling under problems due to that experience.
He said that the business community should understand the gravity of the situation and cooperate with the government to resolve issues.
We will soon steer the country out of the current mess and put it on the path of progress and prosperity, he added.
The Senator said that all the problems of the industrialists of Islamabad would be resolved on preference so that they can play a positive role in national development.
Earlier the leaders of the business community informed the minister about their problems, demanded the issue of LCs be resolved, and sought early resolution of the rest of the problems including a new industrial estate in Islamabad.