Violence, arrests and unclear policy make it difficult for Afghan journalists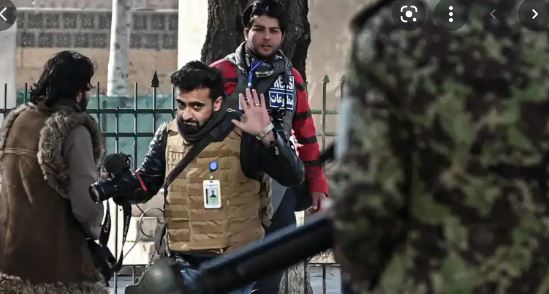 From Our Correspondent
PESHAWAR, JAN 28 /DNA/ – Violence, arrests and unclear media rules have made it difficult for Afghan journalists to carry out their professional duties, and these hardships continue to escalate throughout in that war devastated country.
Since empowering of Taliban on August 15th 2021, several journalists have been attacked or detained. And those who have been beaten say the Taliban have not held those responsible, responsible for the attacks. Even Taliban officials are exonerating them of such aggression against media workers
The media experts including employees and employers say the lack of state institutions and laws is making matters worse.
At least four journalists have been detained since the beginning of the year. Three of them were arrested on January 6 while covering a protest in Panjshir province, where a Taliban fighter One civilian was killed.
The taliban spokesman Zabihullah Mujahid accused the journalists of fabricating news. Mujahid told VOA that a team of so-called journalists was arrested as they were returning from Panjshir in the northeast, where they made a fuss without investigating the matter. Make videos. The spokesman said Taliban intelligence arrested the journalists to punish them and explained to them that this could harm public and national security.
The Taliban also arrested Faizullah Jalal, a professor of law and politics at Kabul University, on January 8. Jalal was detained for four days on charges of making "absurd statements" and killing people. Incite against Taliban.
After his release, Jalal told VOA's Radio Azadi that his arrest was linked to a November televised debate in which he participated with a Taliban spokesman.
Hujjatullah Mujaddidi, vice-president of the Afghanistan Independent Journalists Association, said one of the reasons for the problems was that the Taliban had issued a guideline for journalists when there was no media law.
In September, the Taliban issued a number of instructions to the media, banning content against Islam or national figures and saying that the media should contact the authorities for reporting. But journalists and media analysts say the Taliban It did not say whether the media laws of the previous government were still in force.
The International Federation of Journalists (IFJ) has condemned the alleged repression and called on the Taliban to release the arrested journalists and provide justice to those who have been attacked or threatened. In his statement, he said that the Taliban should stop harassing the media and make a clear commitment to protect the freedom of the press.
Misbah, a member of the lawyers' union in Afghanistan, said the Taliban should guarantee the country's journalists access to justice.