Uzbek terrorists still hiding in tribal areas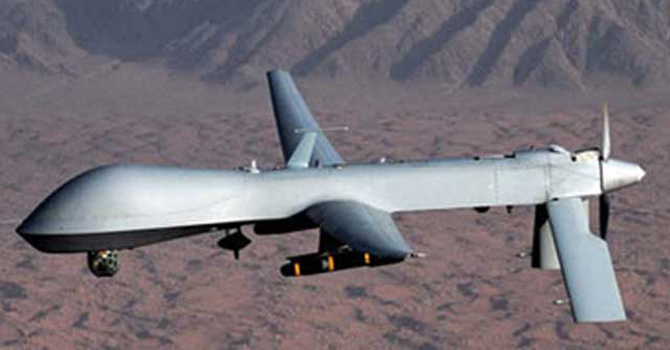 ISLAMABAD (DNA) -The US killed seven "militants," including two Uzbeks, in the second drone strike reported in Pakistan's tribal areas so far this year. Agencies reported on May 16, 2015 that Uzbek terrorists who are responsible or disturbances in Pakistan and the region are still hiding in the tribal areas.The CIA-operated, remotely piloted Predators or Reapers fired two missiles at a compound in the village of Wacha Dara in South Waziristan earlier on May 15, DNA reported. Four more militants are reported to have been wounded in the airstrike.No senior leaders or commanders of the Taliban, al Qaeda, or other allied jihadist groups that operate in South Waziristan are known to have been killed.The Uzbeks may be members of the Islamic Movement of Uzbekistan or the splinter Islamic Jihad Union. Both jihadist groups are allied with al Qaeda and the various Taliban factions that are active in Pakistan's tribal agencies.
The area where strike took place is administered by Sajna Mehsud, who heads a splinter faction that broke away from the Movement of the Taliban in Pakistan in May 2014 due to a leadership dispute. Sajna, who is said to support peace talks and has allied with North Waziristan Taliban commander Hafiz Gul Bahadar, formed the Movement of the Taliban in South Waziristan. The spokesman for the new Taliban faction accused its parent organization of being "un-Islamic." [See LWJ report, Discord dissolves Pakistani Taliban coalition.]
The US added Sajna, who is also known as Khan Said, to the list of Specially Designated Global Terrorists in October 2014. His forces wage jihad in both Afghanistan and Pakistan. [See LWJ report, US State Department adds Pakistani Taliban leader to list of global terrorists.]
US strikes in Pakistan
MAY 15 drone strike in South Waziristan WAS the second reported in Pakistan this year. The last attack, on Jan. 4, targeted a compound belonging to Bahadar in North Waziristan.
Last year the US launched 24 airstrikes inside Pakistan; four of those strikes took place in South Waziristan and 19 in North Waziristan. The number of operations has decreased since the program's peak in 2010, when 117 attacks were recorded by The Long War Journal. [See LWJ report, Charting the data for US airstrikes in Pakistan, 2004 – 2015.]
The US continues to target and kill al Qaeda and Taliban leaders in Pakistan's tribal areas despite previous claims by Obama administration officials that al Qaeda has been decimated and only two "core" al Qaeda leaders remain active. Al Qaeda also remains active outside of Pakistan's tribal areas in the provinces of Baluchistan, Punjab, and Sindh, where the US drones do not operate.