Uzbek cuisines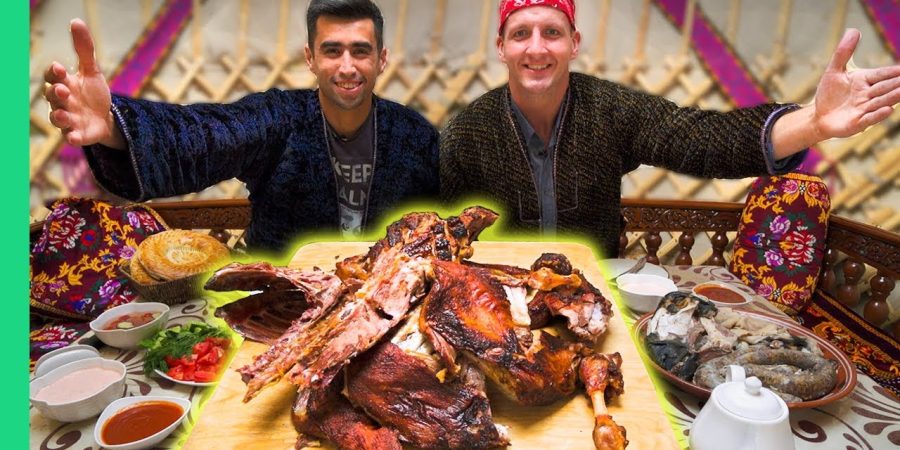 Cold Dishes:
Rolled Belly(for 5-6 person)
1 belly (beef or mutton), 2 kg beef (fillet), 4 carrots, 2 garlic cloves, greens, black pepper, salt and spices to taste.
Clean and wash belly from both sides then keep it in salt water with black paper for 30 minutes. Peel the outer layer with the knife. Strew meat with spices. Cut carrots, garlic, greens, add salt and roll the belly. String round rolled belly with the thread and put into a boiler filled with cold water. Boil for 4-5 hours. After boiling, take it out and cool. Cut, put on dishes, decorate with green onion and serve it.
Cold pumpkin(for 5-6 person)
600 g pumpkin, 100 g sugar, 100 g sour cream, salt to taste.
Clean the pumpkin, cut to pieces and boil them. Boiled pumpkins strew with sugar and pour sour cream over.
Salads:
Salad "Uzbekistan"(for 5-6 person)
150 g boiled beef, 150 g boiled turkey, 150 g tomato, 150 g cucumber, 150 g red radish, 150 g boiled corns, 240 ml cream, 60 g greens, salt and black pepper – to taste.
Cut the beef, turkey, tomato, cucumber and radish into sticks. Add salt, black pepper, greens, cream to the boiled corns and mix. Put it on a plate. Decorate the salad with greens and flowers made of radish.
Salad "Tashkent" (for 5-6 person)
250 g cold boiled beef or mutton, 400 g green radish or red radish, 80g onion, 30 g vegetable oil, 250 g cream or mayonnaise, 3 eggs, 30 g greens (dill, coriander)
Put washed, peeled and sliced radish in cold salt water for 0.5-1 minutes. Fry onion in oil till becomes golden. Cool it and mix with sliced meat, radish, cream or mayonnaise, salt, pepper. Put it on a dish in the form of pile. Decorate sides of the salad with boiled and cut to four pieces egg and two thin layers of meat. Decorate surface of the salad with little flowers or radish cut in the form of fir.
First Course Meals:
Samarkand moshova(for 5-6 person)
600 g mutton or beef, 200 g onion, 100 g carrot, 100 g mutton fat, 300 g moong dal, 100 g fat tail, 100 g haricot bean, 100 g wheat flour, 2 I water, 100 ml sour milk, salt and spices – to taste.
Cut meat to 10-15 gr. pieces and try. Fry sliced onion with fat-tail cracklings before getting yellow. Add cut to blocks carrot and fry 10-15 minutes more. Pour water and bring to a boil. Then add sorted and washed moong dal, haricot beans and boil until it is half done. Add mixture of flour sauteing diluted with water, add salt and boil until it is done. Serve moshova in dishes with sour milk and greens.
Manpar(for 5-6 person)
80 g beef or mutton (flesh), 40 g onion, 120 g wheat flour, 60 g water, 20 ml vegetable oil, 85 g tomato or 20 g tomato-paste, 20 g sweet bell pepper, 10 g garlic, 1 egg, salt and black pepper to taste.
Make dough of flour, water and salt, place it for proving. Roll dough into thin logs, flatten and tear off small pieces of dough. Boil it in salted water. Rinse boiled dough with cold water.
For sauce: Cut meat to blocks and fry it in heated oil. Slice onion to semi-rings, add tomato or tomato-paste and fry it. Then put small cut garlic, bell pepper and fry them for 30 minutes. Add salt and spices to taste. Fry egg in oil. Put boiled dough in kasas, add sauce, garnished with fried egg and strew greens.
Second Course Meals:
Fried sheep ribs (for 5-6 person)
500 g sheep ribs, 200 ml vegetable oil, 20 g onion, salt and black pepper to taste.
Divide sheep ribs into small pieces. Add salt, black pepper to taste and marinate it for 3 hours. Stir-fry sheep ribs in oil. Slice onion to rings. Put sheep ribs with fried potatoes on a plate, decorate it with cut onion and serve up.
Qozon kabob – kebab, preparing in kazan(for 5-6 person)
700 g mutton, 500 g potato, salt and cumin to taste.
Cut fat fillet and ribs to pieces, add salt, cumin – to taste and marinate. Put meat into the slightly preheated boiler with fat side down. After fat melting turn the meat over. Cut potato to several pieces and put on the meat. Strew salt and cumin. Fry it for 10-15 minutes. Then stew on slow fire for 40-45 minutes. Serve the ready meal in a lyagan (large flat round dish).
Minced kebab of beef (for 5-6 person)
600 g beef, 150 g fat-tail, 80 g onion, black pepper, cumin, salt to taste.
Mince beef for two times in meat grinder, cut fat-tail to pieces. Add cut fat tail, black pepper, sliced onion, salt and mix up. Prepared stuffing put in a cool place for 2-3 hours. Then form sausages from it and thread on four skewers and cook on live coals. Serve kebab in lyagans with sliced onion sprinkled with vinegar.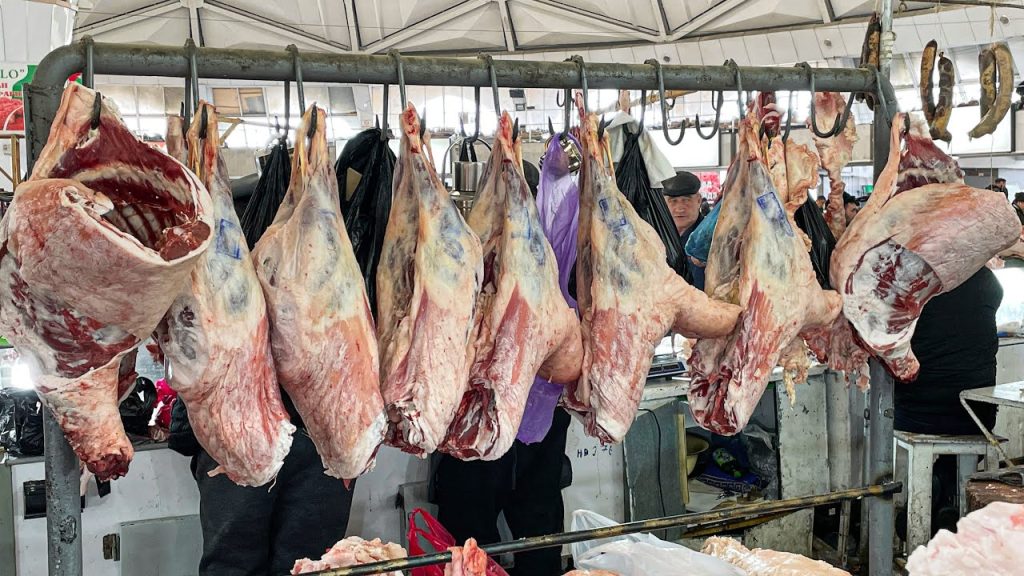 Farinaceous meals:
Patyr
1 kg wheat flour, 100 g lamb fat, 12 g east, salt to taste.
Add some yeast in flour, pour melted lamb fat in and water and make dough. Leave the dough for one hour. Then divide it in parts and form balls. Roll out the dough thinner than for cooking of Oby non. Cut sides of bread with sharp knife and make ornament by "chakich" (special equipment). Then spread the bread with melted lamb fat and bake in tandyr.
Samsa with fat-tail(for 5-6 person)
250 g wheat flour, 100 ml water, 450 g flesh of lamb or beef, 100 g fat-tail, 100 g margarine, 250 g onion, cumin, salt and black pepper to taste.
Make stiff dough and leave for 20-30 minutes. Roll out a thin layer, spread with melted fat, roll up and leave for 30-40 minutes. Cut dough to 10-15 pieces and roll out circles from each piece. Edges of it must be rolled out thinner than the middle. Put minced meat in the middle and form triangle samsa, spread with whipped egg. Bake in oven or tandyr at high temperature.
For stuffing: mince meat and cut onion mixed with cut to small pieces fat-tail, salt and spices.
Confectionery:
Dried apricot with walnuts(for 5-6 person)
500 g dried apricot, 500 g walnuts, 100 g white chocolate.
Rinse dried apricots with boiled water and dry. Put half of the walnut on soft dried apricot and decorate with white chocolate.
Kokand khalva(for 1 kg)
300 g sugar, 500 g dry milk, 150 g butter, 100 g peanuts, 2 g vanillin.
Boil and cool sugar syrup. Add butter, dry milk, vanillin and mix up. Boil mass on a slow fire until thick consistency and cream color. Low the fire. Put peeled peanuts or other kind of nuts and mix up. Place the mass into special dish greased with oil. Thickness of mass layer in a dish must be about 2-2.5 cm. Put it in cool place for hardening. Cut khalva to rhombus.