Uzair's daughter confirms his father arrest in 2014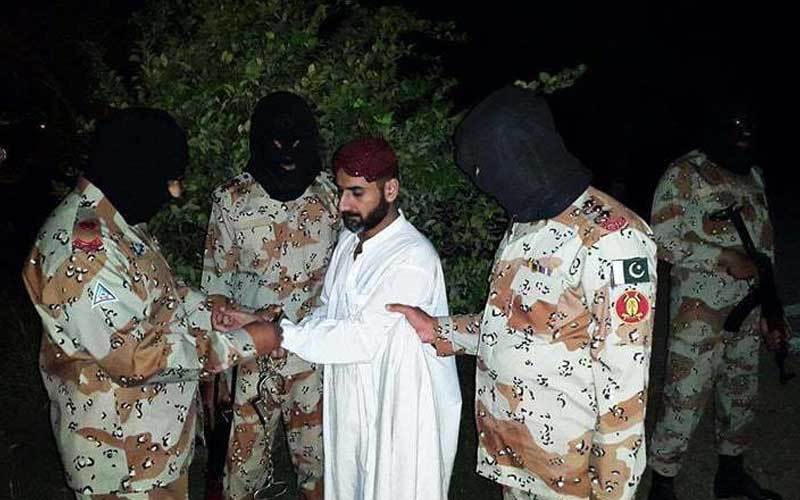 KARACHI: Fourteen-year-old Yursala, the eldest daughter of Uzair Jan Baloch, broke her silence on Saturday to say that he was arrested by Interpol at the boarding lounge of Dubai airport on Dec 27, 2014.
"I was sitting by his side when he was taken away. The authorities only informed us that he'd remain in their custody for a while. It'll be 13 months today since the last time we saw him and we are glad he's alive," she said hours after the alleged Lyari gang leader was produced in court in Karachi.
The news of his arrest by the paramilitary force spread quickly within the community and despite fears of a strike in the area, all the shops and business activity continued undisturbed as only his immediate family and close relatives gathered in his Singhu Lane home.
The family expressed serious doubts about the Rangers claim of his arrest on Saturday. They said they believed Uzair had been in their custody for the past one year. The delay in his extradition reported by the police was merely an eyewash, they said.
Standing outside his house, an area resident, Abdul Latif, said the relief to see him alive stemmed "from the speculation in the area that Uzair Baloch might have been shot dead while in custody as there has been no news of him for the past one year."
Others were reminded of how another alleged gangster, Abdul Rahman alias Rahman Dakait, was shot dead in almost similar circumstances.
Covering part of her face with a burqa, his mother said:"My son is being used as a pawn in the political game of Pakistan Peoples Party (PPP) for which they'll pay dearly."
It all began with the Rangers-led operation in September 2013 as the paramilitary force went after gang members, extortionists and targeted killers in the first phase of the operation.
At the time, many of Uzair's henchmen were already caught in a battle with a splinter group led by Noor Mohammad alias Baba Ladla, after the two fought about letting paramilitary forces arrest Ladla's men during search operations in many streets and lanes of the area. The tussle led to the killing of defunct Amn Peace Committee activist Zafar Baloch, as the fight spilled out on the streets. As a result of the fight between the men whose siblings or relatives are married in the opposing areas, people such as Abdul Latif could not visit their relatives in Kalri, a street just a few steps away from Singhu Lane. "There are no physical barriers but we know we are not welcome there," said Mr Latif.
The continuing infighting and Rangers-led operation forced many gang members to leave Lyari. Uzair Baloch, too, left for Norway from where he travelled to Sistan-Baluchistan and then to Dubai, where Interpol finally arrested him.
The PPP-led government that had issued red warrants against both Uzair and Ladla, is equally considered to have a role in the chaos in the area, said Mr Latif as other residents gathered around him agreed in unison.
"If you hold an election tomorrow and ask people to either vote for Bilawal Bhutto-Zardari or Uzair Baloch, a majority would prefer Uzair to Bilawal," he said.
The reason was that "the PPP is not getting a vote based on an ideological basis rather need-based requirements of the people. People know that they'll get a few jobs. Apart from that most of our needs were fulfilled by Uzair whether it was to get someone's daughter married, or monthly rationing. He used to do that while living here," argued another resident Mohammad Fazal.
Matters had already come to a head in April 2012 when under the PPP-led government, an operation headed by the late SSP CID Aslam Khan, also known as Choudhry Aslam, had been launched in Lyari. The operation began after Uzair stopped the buses on way to Garhi Khuda Bakhsh for the commemoration of Zulfikar Ali Bhutto's hanging by the military dictator general Zia-ul-Haq. This angered the political cadre of the PPP as well as Zardari's close aide and half brother Owais Muzaffar. The subsequent operation lasted a week until it was called off.
Despite the calm inside their home and occasional crying over Uzair's fate, his daughter complained that "the MNAs or MPAs backed by my father in the general elections [of 2013] have not visited us during the past year. We have been managing on our own."