US pledges USD 3.5 million to UN Women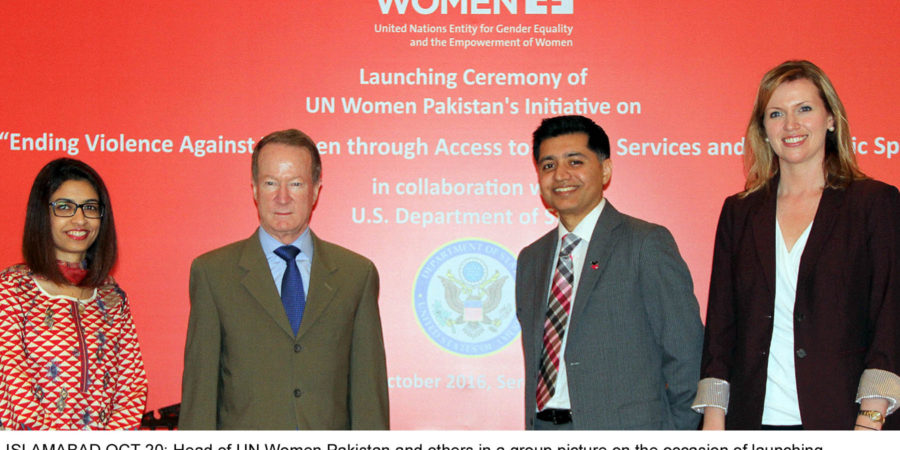 ISLAMABAD, OCT 20 (DNA) -The United States(U.S.) Department of State and UN Women (the United Nations Entity for Gender Equality and the Empowerment of Women) Headquarters signed a three-year agreement, providing a grant of USD 3.5 million to support UN Women Pakistan's initiative: "Prevention and Protection of Women from Violence Through Access to Justice, Services and Safe Public Spaces."
This was announced during a launch ceremony held on Thursday at a local hotel, in Islamabad.
In welcoming representatives from the federal and provincial Governments, civil society and development partners, Jamshed Kazi, Country Representative, UN Women Pakistan stated: "Today is an exciting day for UN Womenas we welcome the high level commitment and strong support from the U.S. State Department to considerably bolster access justice, essential services and safe public spaces for women and girls facing violence in Pakistan."
"Every year, hundreds of women are abused physically or sexually at home and in public with very few reporting such crimes and even fewer convictions.
The recently passed tougher laws on anti-honor killings and rape, howeverare reasons to be optimistic. This demonstrates the government's commitment to plug the legal loopholes and create a greater enabling environmentfor our programme interventions in the provinces towards ending violence against women and girls," he added.
William Brownfield, U.S. Assistant Secretary of State and Chief Guest in his remarks expressed deep commitment of the U.S. State Department to partner with UN Women in ending violence against women in Pakistan and said: "This programme will not only help bring justice to the women and girls of today's Pakistan, but help prevent violence in the future.
Pakistani professionals will now have the tools, resources, and facilities they need to ensure that the good intent of recent laws can be translated into actions that positively impact lives."
Salient features of the programme"Prevention and Protection of Women from Violence Through Access to Justice, Services and Safe Public Spaces" covering the provinces of Balochistan, Punjab and Sindhwere presented, and includeinitial focus on enhancing women and girls' access to justice, services and safe spaces acrossseveral pilot districts.
Key interventions through this partnership were shared as: capacity enhancement of key stakeholders including law enforcement agencies and service providers; increased public awareness on prevalence and causes of violence against women; data collection through safety audits; and refurbishment of women's protection facilities and exploring the establishment of women protection units.
In order to build the capacities of key stakeholders including law enforcement agencies and service providers, a thorough assessment of justice and protection services will be carried out in the inception phase and the priority areas will be finalized in consultation with the key stakeholders.=DNA