US Congressman calls on Tariq Fatemi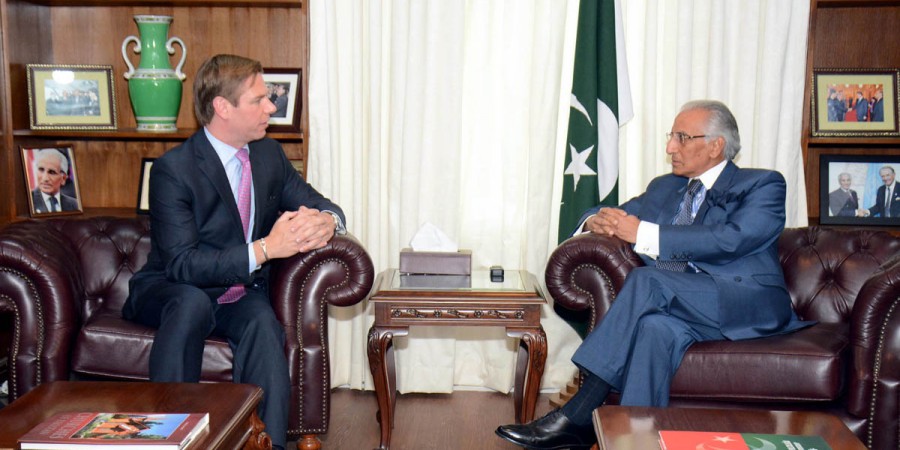 ISLAMABAD, 02 JUNE (DNA) – US Congressman Mr. Eric Swalwell called on the Special Assistant to the Prime Minister on Foreign Affairs on Thursday.
A Democratic Party member from California, Congressman Swalwell serves on the House Permanent Select Committee on Intelligence and is the top Democrat on the Subcommittee on the Central Intelligence Agency, (CIA), responsible for the oversight, policy, activities, and budget of this organization.
He also serves on the Committee on Science, Space, and Technology, where he addresses issues related to climate change and advocates for renewable energy. He was accompanied by US Ambassador David Hale.
Welcoming him, the SAPM stated that the timing of Congressman Eric Swalwell's visit to Pakistan was propitious as it provided the two sides a useful opportunity to take note of each other's perspectives on issues of mutual interest and concern.
The SAPM also underlined the importance of regular parliamentary exchanges between Pakistan and the US in order dispel misperceptions in the US Congress, specially about Pakistan's sincere and committed efforts to achieve mutually shared objectives against terrorism in the region.
The SAPM hoped that during his stay in Pakistan, Congressman Swalwell would be able to arrive at a holistic view of the history of Pakistan's meaningful cooperation with the US on a host of critical issues, including against terror outfits in the country, ongoing peace process in Afghanistan and improvement of relations with India.
During the meeting, the SAPM briefed Mr. Swalwell in detail about Pakistan's successful efforts under the Zarb-e-Azb operation to uproot various terrorist networks, including Al-Qaeda, TTP and HQN from the Pakistani soil.
Matters related to the peace and reconciliation efforts by the QCG in Afghanistan, which had received a serious setback following the US drone strike in Balochistan, on 21 May that killed the Tehreek-e-Taliban, Afghanistan (TTA) leader, were also discussed.
In his remarks, Congressman Eric Swalwell noted that Congress recognized the efforts and sacrifices made by the people of Pakistan and its armed forces in the fight against terrorism. He added that the visit had provided him the opportunity to arrive at a deeper understanding of the Pakistan-US bilateral cooperation in a host of important issues, including the joint efforts by QCG in restoring peace and stability in Afghanistan. DNA