Underprivileged to get free treatment as govt launches health insurance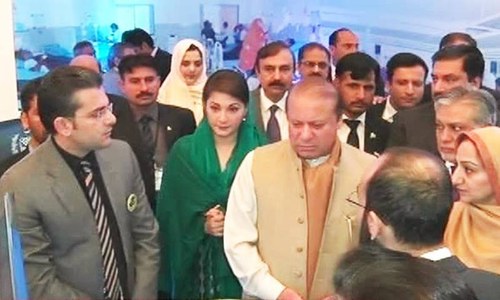 ISLAMABAD: State Minister for Health Saira Afzal Tarar at the launch of the National Health Programme here on Thursday announced the issuance of health cards which will enable the underprivileged to receive treatment at private and public hospitals free of charge.
Tarar said those who earn daily wages of less than Rs200 qualify for the programme, and that treatment would be provided without discrimination "whatever your religion, sect or province".
The health minister said the prime minister's card allows Rs50,000 for the treatment of common illnesses "such as the flu, cough and hepatitis", and sets aside Rs300,000 for more serious conditions like "angioplasty, bypass and dialysis".
"If this limit finishes while they are at the hospital, the patients will not be forced to leave the hospital," she said. "We signed a Memorandum of Understanding with the treasury for them, and their limit will be extended to Rs600,000."
"The federal and provincial governments will work together on this programme. The federal government is providing Rs9 billion for treatment," she said. "Treatment will be possible at both public and private hospitals."
She expressed optimism that the mother-child mortality rate ─ and consequently, Pakistan's health indicators ─ would improve once mothers had access to better facilities at the time of childbirth.
A toll-free number has been set up for those with complaints regarding their treatment, she said.
However, earlier in December, National Health Services Director General Dr Asad Hafeez told media: "In the first phase starting on Jan 1, as many as 3m people in 23 districts of Punjab, Balochistan, Fata and AJK will be included along with Islamabad. It will start from Islamabad, followed by Muzaffarabad a week later and then Quetta, Rahimyar Khan and other cities."
Hafeez had said that Khyber Pakhtunkhwa and Sindh have not shown interest in the insurance programme, but the government has allocated funds for them and they can join anytime.
The health minister said quality checks were conducted on impanelled hospitals. A soft-launch scheme is in place for hospitals that wish to become part of the scheme but lack the necessary facilities, she said.
"For those that don't have the latest equipment or an operation theatre, we are starting a PM's scheme for low-interest loans at easy instalments so that they can improve the quality of their hospitals."
The Prime Minister, while addressing the ceremony said that those living below the poverty line would be provided health insurance "and can receive treatment for any fatal disease".
"No one will have to sell their personal belongings in order to pay for treatment," the PM said, adding that serious action would be taken against those who attempted to misuse the scheme.
Only two provinces are part of the programme initially, the scope of which will soon be expanded, he said.
Prime Minister Nawaz Sharif was given a briefing of the programme prior to the launch ceremony. Maryam Nawaz, Finance Minister Ishaq Dar and Commerce Minister Khurram Dastagir Khan are also in attendance at the launch.
Earlier this month, the PM said the programme should be implemented in phases to filter out any deficiencies and an awareness campaign should be launched about the diseases to be covered under the initiative.