Two Pakistani experts get French literary award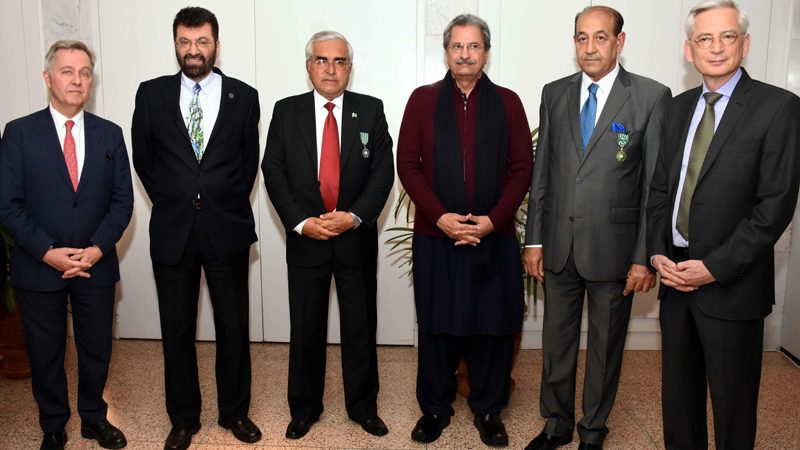 ISLAMABAD, FEB 07 (DNA) – The French government has conferred medal of Order of Arts and Letters on  Prof. Dr. Muhammad Ashraf Khan Former Director Taxila Institute of Asian Civilizations, Quaid-i-Azam University And Dr. Fazal Dad Kakar Former Director General Department of Archaeology and".
The Ordre des Arts et des Lettres (Order of Arts and Letters) is an Order of France, established in May 1957 by the Minister of Culture. Its purpose is the recognition of significant contributions to the arts, literature, or the propagation of these fields.
Both of the recipients have graduated from the prestigious French University of La Sorbonne in Paris where they got a PhD. Both of them are fluent in French language and expert in French culture.
In his presentation, Dr. Marc Baréty, Ambassador of France thanked. Shafqat Mahmood Federal Minister for Education, Professional Training, Heritage for his presence.
He also thanked Dr. Tariq Banuri, Chairman HEC and Dr. Muhamad Ali Shah Vice Chancellor Quaid-i-Azam University for their support.
He recalled the brilliant career of Dr Ashraf as Director of Taxila Institute of Asian Civilizations, and Dr Kakar former Director General Department of Archaeology and Museums.
He reminded the importance of the French cooperation in the field of archeology, in particular with the discovery or Mehrgarh site by Jean-François Jarrige in 1974 and the continuation.
He signaled the 60th anniversary of the Archeological Mission of Indus Valley that will take place on 28th February on the site of Mohenjo Daro and thanked the authorities of the Sindh Province for their continuous support.
The Ambassador reminded the audience of the importance of the Gandhara civilisation and the extraordinary heritage present today with all the Buddhist temples. He also congratulated the Government of Pakistan for its initiative to organise a full mapping of the country and enhance the importance of its colonial heritage but also religious.
Finally, he reiterated his thanks to Dr Ashraf and Dr Kakar for their continuous research and the support to the training of a young generation of Pakistani archeologists who will study in France and work in Pakistan with the support of the world renowned museum "Musée Guimet" of Paris which has the most comprehensible collection of Gandhara Art.=DNA
========