Trying to make sports the identity of Islamabad City-Capt.(R) Noor Ul Amin Mengal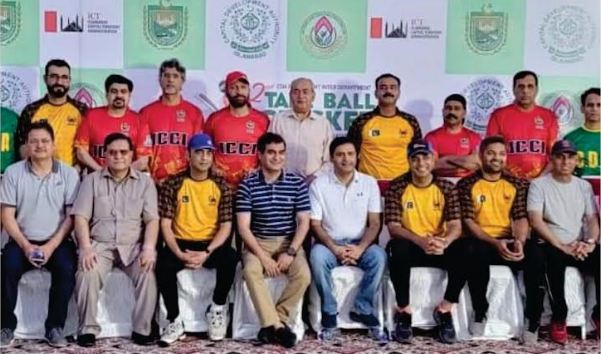 Islamabad, JUN 5 /DNA/ – Chairman CDA Captain Noor Ul Amin Mengal said that we are trying to make sports the identity of Islamabad city. Improving sports facilities in Islamabad is our priority, CDA is working on a mega project to upgrade sports grounds. Providing sports facilities to the youth is indispensable for building a better society. He expressed these views yesterday in his speech as a special guest at the cricket tournament organized by the Islamabad Chamber of Commerce and Industry.
The teams of ICCI, CDA, Media anchor and ICT XI participated in the tournament. The senior officials of CDA, Senior Vice President Islamabad Chamber Faad Waheed, Vice President Engineer Azhar Islam, Zafar Bakhtawari participated in the tournament Among others participated. Speaking on the occasion, Chairman CDA said that CDA is taking great steps regarding sports and will provide complete sports facilities in every sector of Islamabad, working to improve the condition of the existing grounds. He said that CDA is also working for special sports enclaves, jogging tracks have been made indispensable in all major parks. Islamabad Chamber's interest in the promotion of sports is welcome, I hope the Chamber and CDA will work together for the promotion of sports.
Talking on this occasion, President of Islamabad Chamber of Commerce and Industry Ahsan Zafar Bakhtawari said that sports can be the best alternative for youth in any society. Promoting heels means highlighting positive activities in society. He said that the Islamabad Chamber has a keen interest in the promotion of sports related activities in the city. The Chamber is working on a project to construct a multi-purpose sports ground in Islamabad which will not only benefit the chamber members but other citizens will also be able to benefit, he said that there is a need to work for the promotion of sports in educational institutions.
Better talent will emerge only if sports are promoted at the grassroots. He said that Chairman CDA's interest in promoting sports is welcome. If other institutions also cooperate in this regard, the situation can improve. All institutions need to work together to take Islamabad forward in sports.