Thousands throng to Islamabad Literature Festival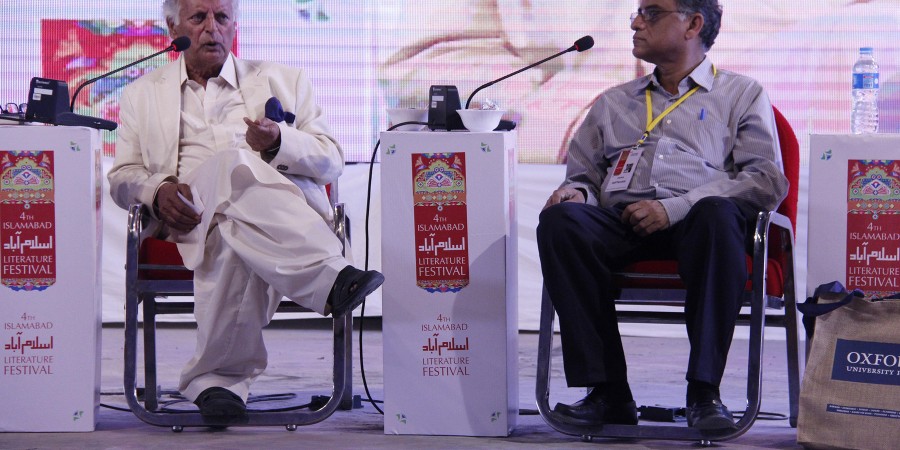 ISLAMABAD, APR 16 (DNA) – Thousands of people throng star-studded fourth Islamabad Literature Festival on its second day marking huge success for a large number of interactive sessions, dialogues, performances and literary activities here at Lok Virsa .According to details, residents of twin cities portrayed their unbiased love not only for literature but for the literary icons belonging to different countries of the world by visiting fourth edition of capital's very own Islamabad Literature Festival.
On second day of ILF, a session "Women's Protection: Yeh Bill Maangay More" was presented in which Lok Virsa executive director Dr. Fouzia Saeed, Arfa Sayeda Zehra, Nasira Iqbal, and Jan Achakzai took part in the discussion on one of Pakistan's most hot topics in recent days while it was moderated by Khursheed Nadeem.
Pakistan's renowned intellectual Late Jamil Ud Din Aali was paid huge tribute by Senator Aitezaz Ahsan, Zahida Hina. Satyapal Anand, Raju Jamil, Session was moderated by Mujahid Barelvi along with recitation by Saif Mehmood. In another session moderated by Saeed Ahmed, renowned poet Kishwer Naheed and Ravish Nadim discussed the new & old Urdu Nazam poetry. On this occasion, Shahid Siddiqui's book "Education Policies in Pakistan: Politics, Projections, and Practices" was also launched and discussed by Ameena Saiyid, Shahid Siddiqui, and A. H. Nayyar.
India's well known journalist Piyush Jha participated in a session "Crime and Fiction: The World of Whodunnits" along with famous Masood Ashar. In another session on politics, former foreign minister Hina Rabbani Khar discussed "Regional Connectivity and Stability?" with Anatol Lieven Omar Zakhilwal, and Jean-François Cautain. Hina Rabbani Khar also took part in a conversation "Softening the hard country" with Anatol Lieven. Well known Pakistani journalist and analyst Rashed Rahman moderated a session "Pen on the Pulse of the Taliban" in which famous journalist Nasim Zehra, former secretary foreign affairs Riaz Mohammad Khan and Omar Zakhilwal shared their valued views with the audience.
ILF marked to celebrate an evening in the name of renowned Urdu poet Anwer Masood on second day while the legend poet won the hearts of audience by reciting his own poetry. AAWAZ presented a session on "Qualified Equality: Minorities in the Constitution of Pakistan" in which Shaqaib Lilla, Zain Mansoor, Babar Sattar, and Romana Bashir took part along with the Moderator Irfan Mufti.
A conversation "Urdu hai jis ka Naam: The Ebb and Flow of Modern Urdu Literature in India and Pakistan" was also held on this occasion in which Saif Mahmood and Ali Akbar Natiq presented their viewpoints.
"Baloch Literature and Society" was also discussed a session a moderated by senior journalist and anchor Mujahid Barelvi. A session "August 1947: The Parting of Ways" was moderated by F.S. Aijazuddin while Ishtiaq Ahmed, Sudheendra Kulkarni, and Ilhan Niaz took part in the discussion.
"Niklay Teri Talaash Main" was one of the most interesting sessions of the day in which Asif Farrukhi had a very productive conversation with known Mustansar Hussain Tarar. Hameed Shahid moderated a session "Nayee Kahani Nayay Log" in which Irfan Urfi, Ali Akbar Natiq, and Zafar Syed took part.
A session on liberal arts "What's Liberal about the Liberal Arts?" was also arranged on this occasion in which Framji Minwalla, Bina Shah, and Aqsa Ijaz took part along with the moderator Aliya Iqbal-Naqvi. Amineh Hoti moderated a session "Swat: Transition from Tribal System to State to Pakistan" featuring Sultan-i-Rome, Zubair Torwali, Ahmad Fouad, and Nazish Brohi discussing the topic.
Aroosa Kanwal's book "Rethinking Identities in Contemporary Pakistani Fiction: Beyond 9/11" was also launched on the second day of ILF while Aroosa Kanwal herself and Muneeza Shamsie discussed the book with moderator Shehryar Fazli.
Art Now on this occasion presented a session "City as Art, Art in the City" Editor in Chief Fawzia Naqvi in discussion with Ambereen Karamat- White Turban, Qudsia Rahim-LBF Stefan Winkler-Goethe Institute and Natasha Jozi-artist spoke about the need for more public initiatives and spending on public art by the private sector. She referred to artist Imran Qureshi's contribution towards the purchase of an ambulance by placing his paintings up for auction. The panel stressed upon initiatives that should be brought forward with or without government backing.=DNA