Thailand contributes more than 21 mln baht (134 million PKR.) for flood victims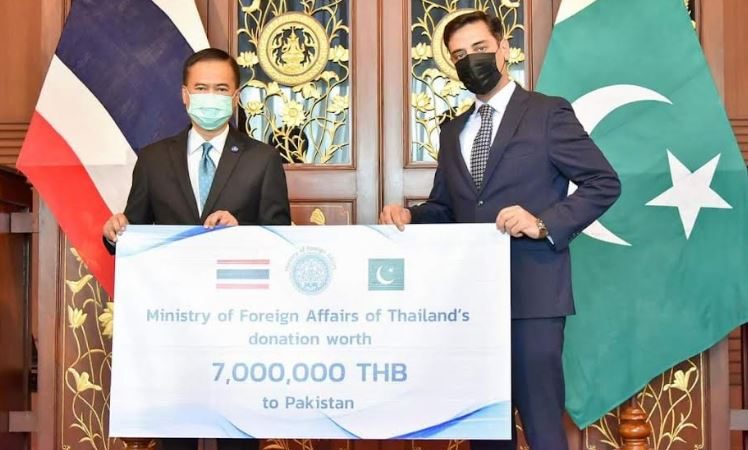 DNA
Bangkok: 14 Sep: Vijavat Isarabhakdi, Vice Minister for Foreign Affairs, presided over the handover ceremony of cash donations for flood relief in Pakistan, received by Chargé d'Affaires of Pakistan to Thailand.
The donations of 21 million baht or about 134 million PKR. consist of 7 million baht (44.7 million PKR.) from the Ministry of Foreign Affairs of the Kingdom of Thailand and another 14 million baht (89.7 million PKR.) from Thai civil society organizations namely the Council for Humanitarian Networking of Sheikhul Islam Office, Al-Salam Institute, Fatoni University, the Thai-Pakistani Friendship Association, the Muslim for Peace Foundation Thailand, White Channel, the Foundation of Islamic Centre of Thailand and the Overseas Pakistanis Thai Association as well as Jai Ngam Foundation. H.E. Mr. Chakkrid Krachaiwong, Thai Ambassador to Pakistan, virtually participated in and witnessed the donations event.
Recently, the Most Venerable Arayawangso Fund donated 6 million PKR while officers and staff of the Royal Thai Embassy in Islamabad also made a contribution for flood relief in Pakistan.