Team wants to give skipper Shahid Afridi a winning send-off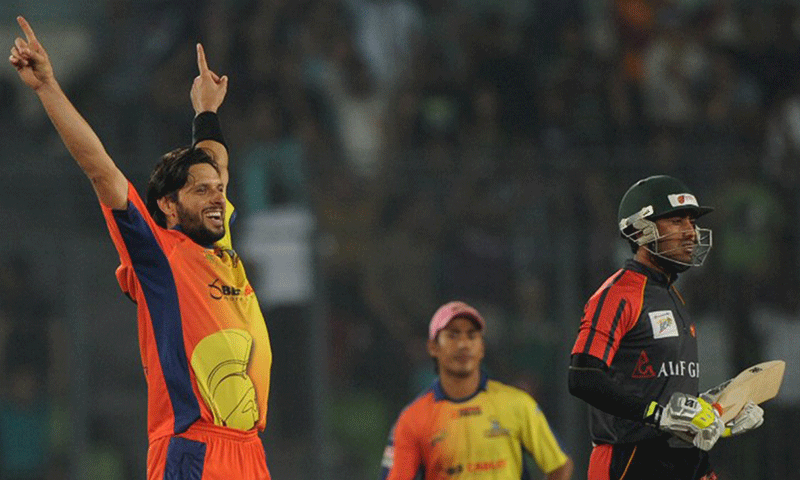 MOHALI: Pakistan batsman Shoaib Malik Thursday vowed his team will do all it takes to pull off a win against Australia and give skipper Shahid Afridi a winning send-off at the World Twenty20.
Afridi, who no longer plays Test and one-day cricket, has hinted at an imminent retirement from the game after being criticised for his side's disappointing show in the marquee tournament.
Pakistan have lost two of their three group matches and another defeat against Australia in Mohali on Friday will throw them out of the competition.
"This is going to be Afridi's last World Cup. I respect him a lot, he is like an elder brother to me," Malik said at the pre-match press conference.
"Nobody will be happier than me if we can win this World Cup for Afridi.
"Every player is trying to give 100 percent. Winning or losing is not in our hands, but each one of us is taking responsibility and trying to give our best," he said.
Veteran Afridi has played 97 T20 internationals and scored 1,391 runs while taking 97 wickets.
Malik, 34, said the team was looking at plugging the loopholes and come out firing against Australia, who have one win and a loss from two outings so far.
"Our first goal is to win tomorrow. We missed out on scoring singles in our last game. Nobody is perfect. We are trying to improve our skills," he said.
A win against Australia is the minimum Pakistan need to keep their tournament hopes alive.
Malik also sought to dismiss talk of friction in the Pakistani dressing room, blaming the team's poor performance for the speculation.
"Nobody talked about a rift in our camp in 2009 when we won the World T20.
"Six of us were not talking to each other, we still won. When you lose games, all the talk starts."