Supreme Court being 'maligned' via audio leaks: CJP Bandial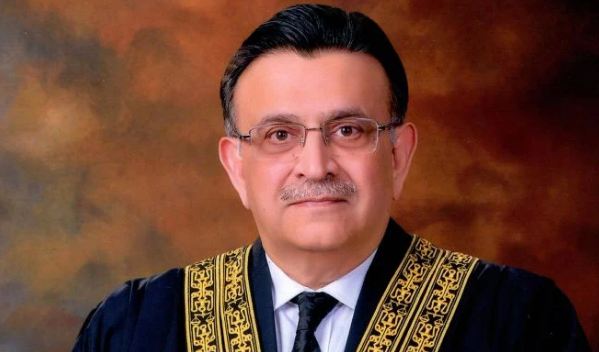 ISLAMABAD: Following a series of leaked audios against judges, Chief Justice of Pakistan (CJP) Umar Ata Bandial on Wednesday observed that the Supreme Court is a constitutional institution which is being "maligned" via audio tapes.
The remarks were passed by the top judge while heading a two-member bench hearing a plea filed by former Lahore capital city police officer Ghulam Mehmood Dogar against his transfer. During the hearing, the Supreme Court also disposed of the appeal as it was taken back by the petitioner.
"The Supreme Court is a constitutional institution which is being maligned through audio tapes," the CJP said. He added that the apex court will work with patience to protect the institution.
"These audio tapes defaming constitutional institutions are of no importance. We are being patient and taking a lenient view of these tapes. We will protect the institution," said the CJP. He added that it was unfortunate that baseless and false allegations have been made against the judges in audio and video leaks.
"What is the authenticity of these audio and video tapes?" remarked the CJP.
Earlier at the outset of the hearing, Dogar's lawyer Abid Zuberi told the court that he wishes to take back the petition.
Meanwhile, the Election Commission of Pakistan's (ECP) lawyer informed the court that the election schedule has been issued for the polls in Punjab.
"As per Article 218 holding free and fair elections is our responsibility. For a level-playing field, the ECP has the power to shuffle the bureaucracy," said the lawyer. He added that the caretaker government can also transfer officers with the ECP's approval.
At this, Justice Yahya Afridi asked, when does the ECP exercise its power of issuing transfer and posting orders?
CJP Bandial remarked that the ECP uses the power to transfer officers to ensure transparent elections. "It has been proven that the caretaker government transfers officials with the ECP's permission."
"The Election Commission itself can give orders to the caretaker government to transfer officers," said the CJP.
Moving on, CJP Bandial remarked that the ECP has wide-ranging powers, adding that all political parties should get an equal chance during elections.
The top judge also remarked that the ECP should not give a free hand to the caretaker government for the transfer of the officers. He added that ECP should ask the caretaker government about such transfers.
"At times Supreme Court's words are misinterpreted," said the CJP. He added that the court had remarked that in 1988 there was an honest prime minister which was misunderstood by the Parliament.
"We did not say that till now there has been only one honest prime minister," clarified the CJP. He added that the court has protected constitutional institutions in its decisions.
"Judiciary is being attacked [and] judiciary we will be protected," said the top judge.