Suicide bombing in Istanbul's tourist district kills 4 injures 20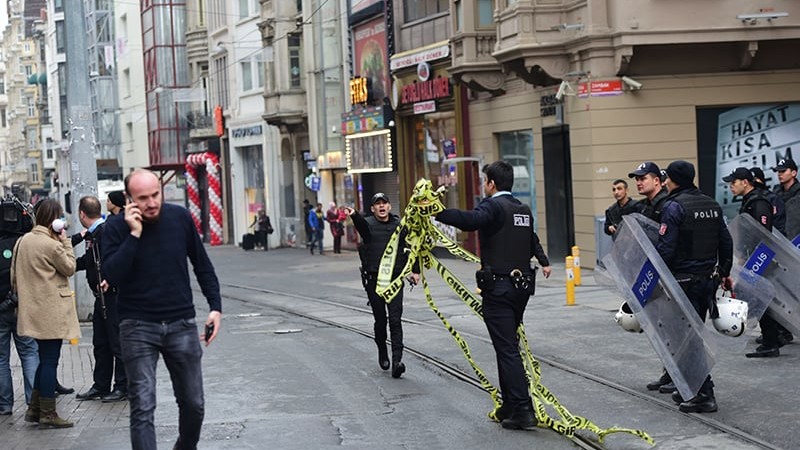 ISTANBUL: At least four people were killed and 20 others wounded in a suicide bombing in a major shopping and tourist district in central Istanbul on Saturday.
The governor of Istanbul Province, Vasip Sahin, said four people had been killed and 20 people injured in the suicide attack on Saturday morning.
The Turkish Health Minister said that 12 of those wounded in the blast are foreigners.
Dogan News agency of Turkey says that three of the wounded foreigners are Israeli citizens.
Turkish Foreign Minister Mevlut Cavusoglu said that the country's fight against terrorism would continue with full force. Cavusoglu made the comment at a joint news conference in Istanbul with his Iranian counterpart, who is on an official visit to Turkey.
The explosion occurred in Istiklal Street, a wide boulevard closed to traffic that is lined with international stores and shopping centres.
A Reuters witness in the area saw police helicopters circling overhead and television footage showed people running from the area.
Armed police sealed off the main shopping street where half a dozen ambulances had gathered. Forensic teams in white suits were scouring the area for evidence.
Istiklal Street, usually thronged with shoppers on weekends, was quieter than normal before the blast, as more people are staying home after a series of deadly bomb blasts.
The explosion comes as Turkey is on edge following two recent suicide bomb attacks in the capital, Ankara.
A suicide car bombing in the capital Ankara killed 37 people this month. A similar bombing in Ankara last month killed 29 people.
A Kurdish militant group has claimed responsibility for both of those bombings.
In January, a suicide bomber killed around 10 people, most of them German tourists, in Istanbul's historic heart, an attack the government blamed on Islamic State.