South Asia Arts Week celebrations kick start in Kunming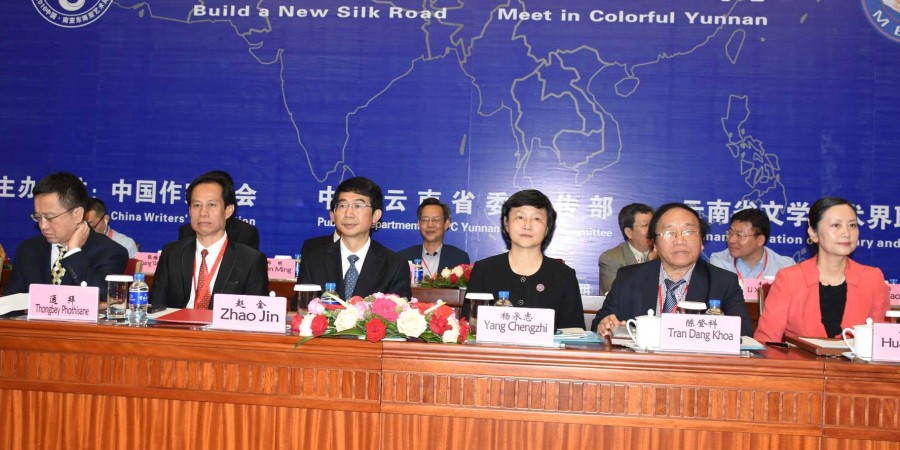 ANSAR MAHMOOD BHATTI
Kunming, China, June 11 (DNA) – The 2016 China-South Asia and Southeast Asia Arts Week celebrations opened in the Spring City of Yunnan province here on Saturday. Delegates from the South Asian and Southeast Asian countries attended the opening ceremony.
The speakers in their speeches highlighted the importance of the South Asia and Southeast Asian region. They also dwelled upon significance of the Silk Road and emphasized to cash in on this route in order to foster particularly the regional development.
The speakers were of the view the region is linked by mountains and rivers, deeply attached by people and culture and friendship from generation to generation.
" In history we are good neighboring countries of harmony and dependence, good friends of assistance in time of adversity and great companions of close cooperation", they added.
It may be mentioned here that the China-South and Southeast Asia Arts Week is an important part of the China-South Asia Expo and the China Kunming import and export fair. The theme of the arts week is to 'build the new Silk Road together and get together in colorful Yunnan".
The award ceremony of the writers' forum also took place on the occasion and the 7th Mekong River Literary prizes were awarded to literary figures from various countries.
The performance of ethnic songs and dances of colorful Yunnan, the exhibition of ethnic costumes simply added colour to the arts week festivities.
The organizers of the event hoped that the arts week can provide platforms of mutual connection and communication for South and Southeast Asia's literary artists and enhance the ties and friendship among literary circles from across the region.
" It is such a delight to have friends coming from afar and we sincerely welcome friends to visit and hope that we can deepen our friendship and also open up wider areas of cooperation thought this arts week," the organizer of the event remarked.=DNA
====================