Six Kalashnikovs recovered from PTI leader's car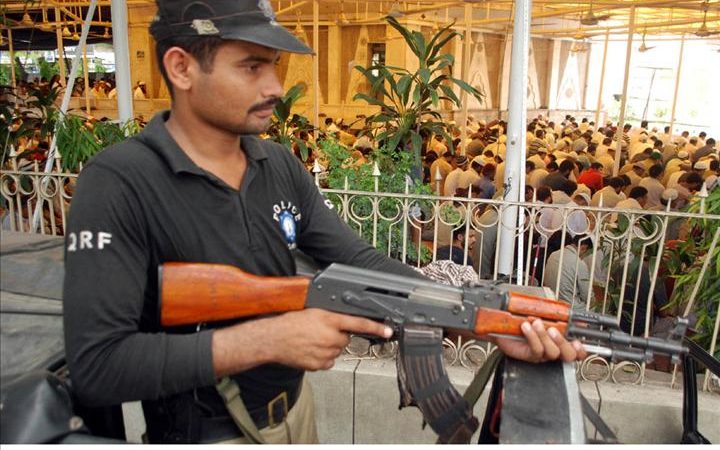 Police on Sunday arrested over 70 Pakistan Tehreek-i-Insaf (PTI) protesters trying to reach party chief Imran Khan's Bani Gala residence in Islamabad's Rukhsana Bangash Road area, DawnNews reported.
Police allegedly recovered six Kalashnikov rifles, magazines, alcohol and tear gas shells from PTI leader Amin Gandapur's car. The car was stopped at a checkpost and searched and has been taken into custody. Gandapur has absconded, and his driver was detained by police.
PTI Chairman Imran Khan on Sunday urged party workers to reach Bani Gala even if they had to climb mountains to do so. Protesters will then move onto Islamabad on Nov 2 for the party's planned 'lockdown' of the capital, he said.
Police attempted to prevent protesters from trying to reach Bani Gala via lesser-known unpaved routes running through the wilderness by surrounding them on all sides. Protesters began stoning police and setting fires in the wilderness, after which police resorted to tear gas shelling.
A contingent of police led by Senior Superintendent Police Operations Sajid Kiyani used tear gas against protesters who were stoning them.
Police check posts have been erected from Link Road to Bani Gala to monitor the situation.
'PTI has a plan'
PTI's Ali Zaidi speaking to Dawn.com claimed police had surrounded the area around Bani Gala and were "not letting food, water or people come here."
"We have invited all PTI workers from across the country to Bani Gala and then we will reach Islamabad on Nov 2. We have a plan and a strategy," Zaidi said.
Although the government has closed roads near Attock, no other roads in the province have been blocked 'completely', according to Punjab Law Minister Rana Sanaullah. Snap-checking of those heading towards Islamabad is being carried out.
The provincial government has also imposed Section 144, banning public gatherings across Punjab until Nov 8.
'Strategy meeting underwya
Uncertainty grips PTI workers
Three days before Imran Khan's plan to siege Islamabad, confusion prevails in the party about the venue where workers will assemble.
A senior PTI leader earlier told Dawn there is no coordination between the leadership and the workers and the latter have to go to the Banigala mansion of Imran Khan to get information. Workers have also been asked to watch private TV channels to get updates on the situation.
PTI Spokesman Naeemul Haq told Dawn earlier, "The problem is the government is taking action against the workers and it will be difficult for the workers to gather at one point on November 2. The workers will be asked to gather at the point where the police would stop them from entering Islamabad."
Read more: Uncertainty grips PTI workers as Nov 2 approaches
PTI 'lockdown'
The party has announced a 'lockdown' of the capital on Nov 2 if Prime Minister Nawaz Sharif doesn't agree to an investigation into the Panama Papers leaks under the terms of reference proposed by the opposition or resigns from his position.
However, the PTI has apparently offered the government a way out of the prevailing crisis, suggesting that it enact legislation to constitute a judicial commission to probe the Panamagate scandal before Nov 2.
PTI Vice-Chairman Shah Mehmood Qureshi on Saturday told Dawn the government still has time to prevent the situation from worsening by convening sessions of the National Assembly and the Senate in order to pass the opposition-sponsored bill on the Panama Papers leak.
"If the government is serious, it can even promulgate an ordinance for the constitution of an inquiry commission under the terms of reference (ToR) unanimously presented by all opposition parties," Qureshi said.