Sin to even consider compromise on Khatm-e-Nabuwwat: Ahsan Iqbal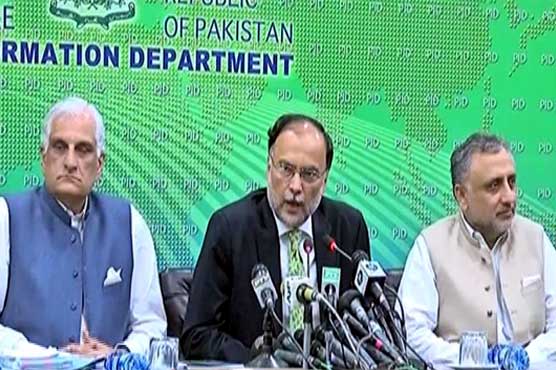 ISLAMABAD, OCT 06  (DNA) – Interior Minister Ahsan Iqbal on Friday made it clear that no Muslim can make compromise regarding Khatm-e-Nabuwwat matter, adding that it is even sin to consider such a compromise. He called for an end to politics based on the sensitive issue.
Speakign to a press conference outside Press Information Department (PID), interior minister claimed that they never considered any change in Khatm-e-Nabuwwat of election reforms bill. "Khatm-e-Nabuwwat is the base and pillar of faith. Nomination form has been restored in its original shape," he stressed.
He told that all political parties have representation in Parliamentary Committee on Electoral Reforms and the bill was passed mutually after consensus with all parties.
While talking about the issue of spreading extremist ideas through social media, he called it a dire need to play responsible role in order to make Pakistan peaceful, highlighting the fact that certain elements were causing extremism in masses.
He condemned such provocative propaganda and argued that issuance of fatwas by street gatherings will only spread extremism. Ahsan Iqbal stated that parliament gave the title of minority to Ahmadiyya community and only state can authorise Jihad. No individual has the right to question the faith of public office holders who have taken the oath and signed the declaration of Khatm-e-Nabuwwat, he added.