Sherry admonishes fed govt for landing Pakistan in a state of 'strategic drift'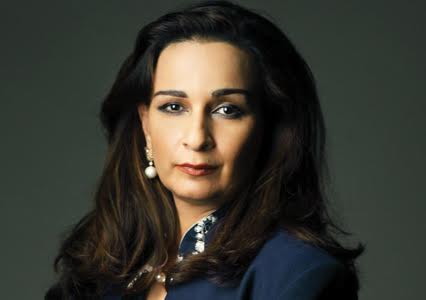 ISLAMABAD, 15 JUNE, (DNA) – "Pakistan is in a state of strategic drift, thanks to the confusion in government circles," Senator Sherry Rehman said in a statement on security challenges mounting in the region and beyond.
"After the martyrdom of Pakistan's Major Ali Jawad Changezi in border shelling from Afghanistan, I hope the government has finally woken up from its policy slumber of three years to understand that this muddle-through is not going to get the country through multiple crises," she said.
"In Washington," said the PPP Vice President, "the government has still not appointed a local lobbyist after three years of an alarming slide in relations with the United States, always mistaking a cordial meeting for an uptick in ties, while other countries like India have four such companies formally in place, taking New Delhi's message relentlessly to Congress."
Rehman revealed that the PPP government not only had a full time lobbyist, but that after 2012 "sent a daily reminder to Congress of the price we pay on terrorism on our own, enumerated on Pakistan's flag via our lobbyists once we realized that there is need for Pakistan's sacrifices and narrative to be amplified, no matter what our resources."
The Senator said that they shut down bases that General Musharraf had granted to the US, but also took the relationship out of a disastrous precipice after our soldiers were martyred at Salala.
"It took a constant daily engagement and coordinated face-down of challenges from Islamabad to Washington, so I shudder to think who is doing this now. Who is convening the crucial regular meetings of the top civilian and military brass to coordinate our mission outputs and signal and manage change in Pakistan's policies?" questioned Rehman.
She said that President Zardari or PM Gilani did it every six weeks and no one would leave the meeting until they had pathways to equitable solutions acceptable to parliament as well as the Pakistani military, which was operationally active with American and ISAF forces across Pakistan's western border.
"The current government has left a leadership vacuum at the core of our policymaking infrastructure, with no Foreign Minister, and no empowered cabinet members other than two to steer this ship," Rehman said, admonishing the current civilian setup.
"Tactical or diplomatic reactionism is neither a policy or a plan, neither does it serve the country in need of structural shifts," stated the Senator. "We are in dire need of strategic focus on the western border, on India, on America, and even with the CPEC, which must not become our lost opportunity, but I fear that there is little interest, capacity or focus on such vital matters," she added.
Rehman further said that there was no calculated pre-emptive messaging, no signalling of stabilizing intent, only what she referred to as "reactive patch-up diplomacy".
"This government-on-snooze may well not be able to hold Pakistan's advantage, gained by the PPP government by moving on the Gwadar-China port ties and investment comfort with China via currency swap mechanisms," she maintained.
Referring to the current government, Rehman said that it had the advantage of an opposition that has cooperated with them on key strategic gains for Pakistan such as rolling out a consensus on the vitally important CPEC, and even on the NAP, adding that they also have an army chief who was willing to take the fight to the last frontier in Pakistan's tribal areas, through Zarb i-Azb.
"But," she said, "this government seems to think fighting violent extremism in the rest of the country is also the military's job. It is not!"
"I am worried for Pakistan," stated the Senator, "Not because India has signed a dying energy technology deal with America to rescue Westinghouse's un-sellable plants, but because we have been unable to tread the fine path between diplomacy and conflict with several of our neighbours, while others gain commercial and infrastructural competitive advantage."
Rehman said that blocking the Indian preferential access to NSG is important. "It is so flagrantly asymmetrical and inimical to regional stability, it cannot hold if we play our minimum diplomatic cards, she said.
"The issue is, we are scrambling at the last minute. Why?" she asked. "Timing and inclusive, coordinated action make all the difference in regional and global politics, but the Sharif government does not 'get' it at all. It hurts to see Pakistan in the hot seat in many capitals and forums, far less for our own policy deficits than their consistent, baffling leadership negligence," she concluded. "The region and world are in the throes of deep, epochal change. We cannot go on with business-as-usual at home or abroad." =DNA
===============