Shehbaz to file Rs 26 billion defamation suit against Imran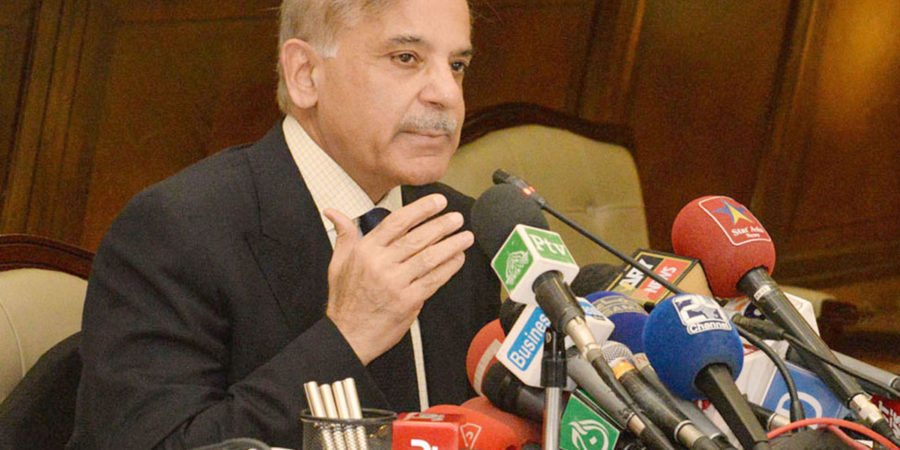 LAHORE, October 26 (DNA): Chief Minister (CM) of Punjab, Shehbaz Sharif has announced on Wednesday to move to a court against Chairman of Pakistan Tehreek-e-Insaf (PTI), Imran Khan over his corruption allegations against him.
The Chief Minister addressed a press conference in the provincial capital Wednesday.
He announced making a defamation claim against Khan in a court after he alleged the chief of provincial government earlier today of colluding with "his frontman", Javed Sadiq, a Canada-based businessman and pocketing funds meant for the people.
Imran Khan claimed in an address Wednesday that he would reveal a scandal involving the allegedly corrupt CM of Punjab ahead of November 2 'lockdown' of Islamabad.
He further accused that being Shehbaz's "frontman", Sadiq pocketed around Rs 15 billion in commission over different 'development' projects.
Denying the accusations, the Chief Minister proclaimed to quit politics and walk away along with his family if the court decided in Imran Khan's favour. CM Shehbaz announced to request the court to hear the case on daily basis for early verdict.
Shehbaz said that the elements endorsing sit-ins did not wish progress of the country and timely completion of development projects. He knows Javed Sadiq since 2008, he cleared and said that if Imran s allegations held ground, the alleged culprit should have had development contracts in his hand by the government but that was not the case.
Sadiq made the bid through a Chinese company but he was not given a contract, CM Shehaz cleared.
The Chief Minister said that leaders of Pakistan Tehreek-e-Insaf were lying to the nation to make sit-in in Islamabad a success however, the attempts would fail. Parties that talked about protests could not see Pakistan progressing, he alleged.
CM Shehbaz further accused that the person who got his loans waved off became one of the richest men. DNA