Serena Hotels Margalla Mountain Marathon organized in Islamabad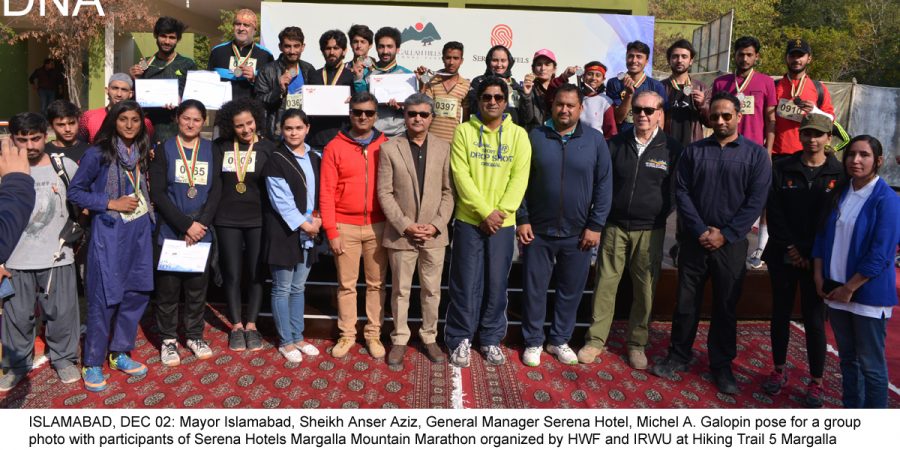 ISLAMABAD, (DNA) – Serena Hotels Margalla Mountain Marathon and 5.5K run drew crowds of nature lover as people welcomed a day in the scenic hills that epitomize Islamabad.
With approximately 150 participants in the marathon and more than 150 runners in the 5.5K, the activity appealed to a wide cross-section of society.
The Margalla Hills National Park carries great significance for people of Islamabad and Rawalpindi as it is the repository of indigenous flora and fauna, an escape from the traffic and chaos of city life and a source of clean air and water.
Serena Hotels Margalla Mountain Marathon organized in Islamabad 
Mr. Aziz Boolani, CEO of Serena Hotels, said, "Preserving the environment is a cause that is very important to Serena Hotels. Responsible natural resource management has always been one of our top priorities and we have inculcated ecologically sustainable policies within the Hotel but raising awareness and encouraging our friends and communities to do the same is also essential".
Serena Hotels has sponsored the Marathon as part of its adventure diplomacy initiative. Earlier this year Serena Hotels hosted the first Pakistan Karakorum Marathon, organised by the Pakistan Air Force that drew international record holders and prize winners to Naltar, a stunning valley in Gilgit District situated at over 8,000 feet above sea level.
The 21.55 kilometre route for the marathon began at Trail 5 to Faisal Mosque, Chak Chabbi, Talhar Ridge and back to Trail-5 while the route for 5.5K started at the Trail 5 Parking to Trail 3-B, to the exercise point above the umbrella and back to Trail 5.
Participants were given certificates and medals and the top three runners in both categories received cash awards.

=================================
To Read More ; Click the Link Below
Opening of Kartarpur Corridor huge diplomatic gesture from Pakistan: President AJK