SC suspends operation of govt notification on formation of judicial commission probing audio leaks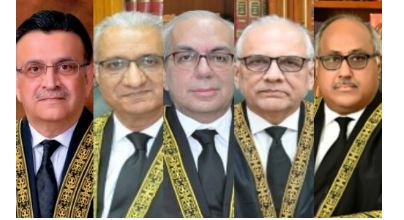 ISLAMABAD, MAY 26: The Supreme Court on Friday suspended the operation of the federal government's notification on the constitution of a judicial panel — formed last week to probe audio leaks which have surfaced on social media over the last few months — and stayed the commission's proceedings.
"In the circumstances, till the next date of hearing, the operation of the impugned notification No.SRO.596(I)/2023 dated 19.05.2023 issued by the Federal Government is suspended as is the order dated 22.05.2023 made by the Commission and in consequence thereof proceedings of the Commission are stayed," the top court said.
On May 19, the government formed a judicial commission, headed by Justice Qazi Faez Isa, under Section 3 of the Pakistan Commission of Inquiry Act 2017.
According to it, Balochistan High Court Chief Justice Naeem Akhtar Afghan and Islamabad High Court Chief Justice Aamer Farooq were also included in the commission which had "all the power to fix responsibility against the delinquents for their alleged role behind phone tapping and could exercise authority to constitute special teams consisting of experts, or form an international team and seek international cooperation or exercise powers" under the Criminal Code of Procedure.
Earlier in the day, the Pakistan Electronic Media Regulatory Authority (Pemra) sent transcripts of nine alleged audio leaks to the judicial commission for investigation. The next session of the commission will be held on May 27 (tomorrow).
The reserved verdict was issued by a five-member bench comprising Chief Justice of Pakistan (CJP) Umar Ata Bandial, Justice Ijazul Ahsan, Justice Munib Akhtar, Justice Syed Hasan Azhar Rizvi and Justice Shahid Waheed.
The order was passed on a set of petitions moved by Supreme Court Bar Association (SCBA) President Abid Shahid Zuberi, SCBA Secretary Muqtedir Akhtar Shabbir, PTI Chairman Imran Khan and Advocate Riaz Hanif Rahi seeking to declare the constitution of the audio commission illegal.
During the hearing today, CJP Bandial observed that the formation of the government-appointed judicial commission "interfered in the judiciary's internal matters" and noted that there were errors in the notification issued by the government for the formation of the commission.
"The Constitution gives complete freedom to the judiciary," he remarked. "The investigation that was supposed to be conducted by the institutions was entrusted to judges."
Justice Bandial further said, "We have no other structure but the power of morality and justice."
After two-hour-long proceedings, the court reserved its verdict on the petitions and said that an appropriate order would be issued today.
In a written order issued later in the day, a copy of which is available with Dawn.com, the apex court issued notices to all the respondents in the petitions and Attorney General for Pakistan (AGP) Mansoor Usman Awan.
It said the proceedings will be taken up again on May 31 (Wednesday).