Saudi-Iran row: PM Nawaz and Gen Sharif arrive in Tehran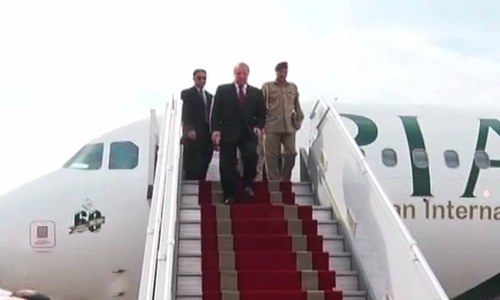 RIYADH: Prime Minister Nawaz Sharif and Chief of Army Staff General Raheel Sharif have arrived in Tehran to meet Iranian leadership, as part of efforts to diffuse rising tensions between Saudia Arabia and Iran.The Pakistani leadership is slated to meet with Iran's President Hassan Rouhani and are also expected to call upon Iranian grand spiritual leader Ayatollah Khamenei.During the visit to the kingdom, the premier met with King Salman, and the prime minister is expected to deliver the king's message to the Iranian leadership.
General Raheel Sharif also held a meeting with the kingdom's defence minister soon after arriving in Saudia Arabia.
"Saudi and Pakistani leadership exchanged views on various facets of enduring cooperation with regards to the Saudi initiative of forming a coalition of Islamic countries against terrorism," said a statement released by the Foreign Office.
Prime Minister Nawaz Sharif also assured the Saudi leadership of Pakistan's support, and expressed concern at the recent escalation of tensions between the kingdom and the Islamic Republic.
On the question of Iran, Syria and Iraq's exclusion from the recently announced 34-nation alliance by the Kingdom, it was stated that the countries were not included due to a trust deficit.
Nawaz called for resolution of the current crises through peaceful means in the larger interest of the Muslim world.