Saudi, Chinese companies sign 34 investment agreements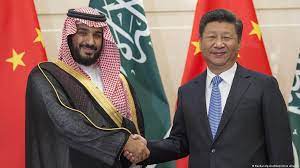 Riyadh, :Saudi and Chinese companies signed on Wednesday evening 34 investment agreements, within the framework of the visit of the President of the People's Republic of China, Xi Jinping to the Kingdom, in the presence of the Minister of Investment, Eng. Khalid bin Abdulaziz Al-Falih.
The agreements between the two sides covered several sectors in the fields of green energy, green hydrogen, photovoltaic energy, information technology, cloud services, transportation, logistics, medical industries, housing and construction factories.
On the occasion, the Minister of Investment confirmed that the agreements reflect the Kingdom's keenness under the leadership of the Custodian of the Two Holy Mosques and HRH Crown Prince to develop the Kingdom's relations in all fields including economic and investment with the friendly Republic of China.
Eng. Al-Falih said that this visit reflects the keenness of the leaderships of the two countries to develop and strengthen relations and partnership between the two countries in all fields, including economic and investment, adding that the visit will contribute to raising the pace of economic and investment cooperation between the two countries.
He also explained that the Kingdom and the People's Republic of China have solid relations and a close partnership that witnessed comprehensive development over the past years, especially after the mutual visits between the leaderships of the two countries, which resulted in fruitful cooperation that included various fields.
He further said that the Kingdom, in light of Vision 2030, offers unprecedented investment opportunities in various sectors including renewable energy, industry, communications, information technology, biotechnology, tourism, building and construction, and others, expressing his aspiration to enhance investments between the Kingdom and China, calling on Chinese companies and investors to come to the Kingdom and benefit from investment opportunities with rewarding returns.
Eng. Al-Falih pointed out that the Ministry of Investment works in cooperation with many partners in the public and private sectors in the Kingdom, to search for distinguished investment opportunities and attract investments to them, and to provide a supportive infrastructure, and an attractive, stimulating and safe investment environment, based on the special advantages that the Kingdom possesses, to be harnessed to build a more diversified and sustainable economy, as the Kingdom enjoys a strategic geographical location linking three continents, overlooking some of the most important water crossings, energy resources and young human competencies.
He said it is the largest economy in the Middle East, and the strongest market in the region, stressing that all these elements and others contribute to enhancing the chances of success of cooperation between the Kingdom and China for the benefit of the two countries and their friendly peoples.
It is worth mentioning that the volume of trade exchange between the two countries amounted to 304 billion Saudi riyals in 2021, and trade exchange in the third quarter of 2022 recorded 103 billion Saudi riyals.