Russia marks 77th anniversary of the end of World War II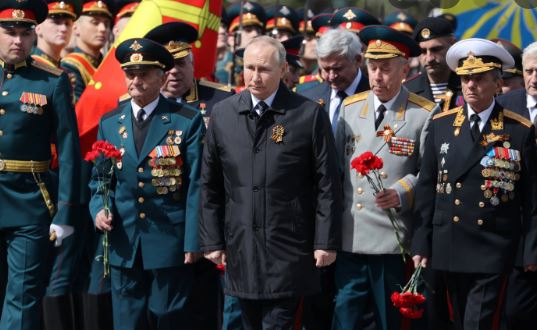 MOSCOW: Today, the Russian capital, Moscow, marks the 77th anniversary of the end of World War II and the victory of the USSR over fascism. Of course, it is possible to see that this year's victory parade is very different from previous years. It is possible to say that this difference is not good at all. It can even be said that the current victory parade was more neglected than in previous years, although the Kremlin administration was reluctant to do so. Of course, the first reason for the lack of interest in this parade is that the war started by Russia for the occupation of Ukraine has already reached 75 days. This war completely isolated Russia in the political, economic, cultural, military, information and logistics spheres. This process continues today.
There were two more highlights in the parade. 1. Absence of foreign guests, 2. Absence of the Russian Air Force in the parade, of course, the Russian side claims that Russia did not invite foreign guests. However, it seems that due to the current situation, even the leaders of the so-called friendly and allied countries did not intend to participate in this event.
As for the non-participation of the Russian Air Force in the parade, it was attributed to the weather, according to the Russian side. However, it seems that the ongoing war in Ukraine has pushed this issue into the background. If we take into account that the information released by the Armenian side some time ago, the claim of Russia to take back 4 SU-30 fighter jets given to Armenia was on the media agenda. At the same time, according to the latest information, the Russian side has already lost about 200 fighter jets in the war in Ukraine. From all this, it can be concluded that Russia does not have enough fighter jets to parade. Samir Humbatov, Head of the Center for International Relations and Diplomatic Studies