Roundtable discussion to mark Int'l Day of Women in diplomacy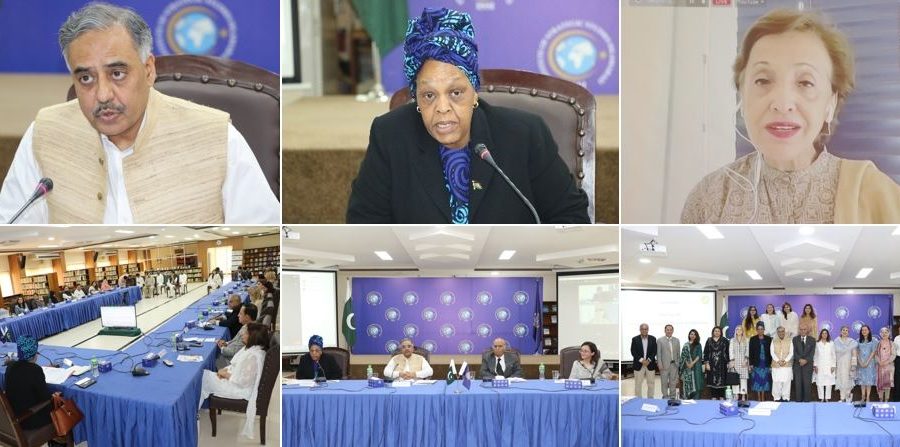 ISLAMABAD, JUN 23 /DNA/ – The Centre for Strategic Perspectives (CSP) at the Institute of Strategic Studies Islamabad (ISSI) organized a Roundtable Discussion to mark the 'International Day of Women Diplomacy' on June 23, 2023. The Minister of State for Foreign Affairs, Ms. Hina Rabbani Khar, shared a special message on the occasion.
The discussion was chaired by Ambassador Sohail Mahmood, Director General ISSI. Participants included: Ambassador Tehmina Janjua, Former Foreign Secretary of Pakistan; H.E. Nyambura Kamau, High Commissioner of Kenya to Pakistan; Dr. Noor Khan, Minister Counsellor/Deputy Head of Mission, Embassy of Norway in Islamabad; Ms. Alice Courlander, Second Secretary at the British High Commission in Islamabad; Ambassador Nadeem Riyaz, President IRS; Ambassador Shah Jamal, Former Ambassador to Iraq; Ambassador Fauzia Nasreen, Former Ambassador to Poland; Ambassador Riffat Masood, Former Ambassador to Iran, Dr. Shabana Fayyaz, Professor, QAU; Dr. Salma Malik, Associate Professor, QAU; Ms. Iqra Ashraf, Director Spokesperson Office/StratCom, MoFA; and Ambassador Khalid Mahmood, Chairman, BoG, ISSI.
Dr. Neelum Nigar, Director of CSP, and the research team of ISSI were also present.
In her introductory remarks, Dr. Neelum Nigar said that celebrating this important day today serves as a powerful reminder of the significant contributions women have made and continue to make in the field of diplomacy. It provides an excellent opportunity to reflect on the achievements, challenges, and aspirations of women diplomats worldwide.
In his welcome remarks, DG ISSI Ambassador Sohail Mahmood stated that the UNGA resolution of 20 June 2022 that proclaimed 24 June to be the 'International Day of Women in Diplomacy' calls upon member states to observe this Day annually, promoting women's equal participation in diplomacy through education and awareness-raising activities. He added that the field of diplomacy, traditionally male-dominated, is undergoing positive transformation with the number of women diplomats increasing sharply. Some countries have achieved gender parity, while others are progressing. Pakistan has made significant strides in the past two decades, appointing its first women Foreign Minister, Foreign Secretary, and Spokesperson. The Foreign Ministry has also seen a notable increase in the recruitment of women diplomats. Ensuring women's meaningful and effective participation in diplomacy and their rise to leadership/decision-making levels remains crucial. While acknowledging women's achievements, we must also recognize the continuing challenges. Commemorating this Day is both a celebration of the achievements as well as an occasion to reaffirm the commitment to do more.
In her message, MoS for Foreign Affairs Ms. Hina Rabbani Khar said that the significance of June 24 as the 'International Day of Women in Diplomacy' is self-evident, symbolizing global recognition of and admiration for women's accomplishments in the diplomatic realm. Having the great honour of being the first woman Foreign Minister of Pakistan, this Day holds great meaning and significance for me personally. It both brings satisfaction and strengthens our resolve to continue to do more. Nations proudly showcase their progress in appointing more women in diplomatic roles, deserving commendation for tangible advancements. Pakistan has made notable strides despite socio-economic challenges, with women achieving prominent positions, including a woman Prime Minister and a young Nobel Prize laureate. While celebrating, we must also acknowledge remaining challenges and work together for a future of equal opportunities, amplifying women's voices and utilizing their expertise in peace-making, peacebuilding, and achieving Sustainable Development Goals (SDGs).
In her remarks, Ambassador Tehmina Janjua, who has had the distinction of being the first woman Foreign Secretary of Pakistan, emphasized that women constitute a crucial component of strategic perspectives. The United Nations deserves praise for its commitment to commemorating this significant Day. When discussing women in diplomacy, three essential aspects come to light: firstly, it is imperative to address the levels at which women participate in decision-making within diplomacy and dismantle the barriers that hinder their progress; secondly, the distinctive approach that women bring to diplomacy, introducing fresh perspectives that warrant recognition and appreciation; and thirdly, careful consideration of how gender is utilized in diplomacy, acknowledging its potential positive impacts while guarding against its misuse for self-serving purposes.
H.E. High Commissioner Kamau, in her remarks, said that celebrating women in diplomacy acknowledges the progress that has been made while also highlighting the work that still needs to be done. It encourages thoughtful consideration of the obstacles faced by women in this realm, igniting initiatives aimed at overcoming barriers and promoting gender equality. In her elaboration about the Kenyan foreign service, the High Commissioner highlighted the significant strides made by women over the past decade. Women in the Kenyan foreign service have witnessed positive developments and improvements. They bring specific advantages to negotiations that enhance their effectiveness in diplomatic endeavors. However, women engaged in diplomacy encounter the challenge of finding a delicate balance between their professional careers and family obligations. This delicate balance often poses obstacles that can impede their overall progress and advancement in the field.
During the interactive session, the other participating diplomats and academics shared their experiences and perspectives with regard to women's role in the field of diplomacy. Ambassador Fauzia Nasreen noted that the civil service reforms of 1972 opened the way for Pakistani women to enter the foreign service. She herself went on to become the first-ever career foreign service officer rising to the level of Ambassador.
Dr. Salma Malik underscored the substantial impact of women diplomats in diverse arenas, surpassing barriers to effectively engage in diplomatic and security issues. She emphasized their ability to overcome obstacles, challenge traditional norms, and make significant contributions in areas traditionally dominated by men including dealing with and writing on strategic issues.
Ms. Alice spoke about the advancements made by women diplomats in the United Kingdom, highlighting their remarkable contributions particularly over the past two decades. She recognized the significant role that women diplomats have played in shaping UK's diplomatic landscape, bringing diverse perspectives and expertise to the fore. Their tireless efforts and groundbreaking accomplishments have paved the way for greater gender equality and inclusivity in the field of diplomacy.
Ambassador Riffat Masood shared her views and highlighted the importance of recognizing and valuing the contributions of women diplomats, as their diverse experiences and approaches contribute to more comprehensive and holistic decision-making processes.
Ms. Iqra Ashraf and Dr. Noor Khan, both young diplomats, acknowledged and highlighted the pioneering contributions of their senior colleagues, expressing gratitude for how these trailblazers have paved the way and made their own journeys in diplomacy more accessible and smooth. They recognized the invaluable guidance, mentorship, and support received from their experienced counterparts, which has helped them navigate the challenges and opportunities of the diplomatic field.
Dr. Shabana Fayyaz expressed appreciation for the ISSI in providing a platform that facilitated interface between women diplomats and academics focused on gender studies, recognizing the value of bringing together practitioners and scholars in a meaningful dialogue. While suggesting that the Institute should consider making it a regular feature, Dr. Fayyaz proposed the establishment of a dedicated women's desk at the Foreign Ministry, which would serve as a place for exchange of ideas, experiences and dialogues relating to gender parity and enhanced participation of women in diplomacy.
The Roundtable discussion was concluded with remarks by Chairman BoG, ISSI, Ambassador Khalid Mahmood.