"Recreate Your Tomorrow!" explores the impact of soft skills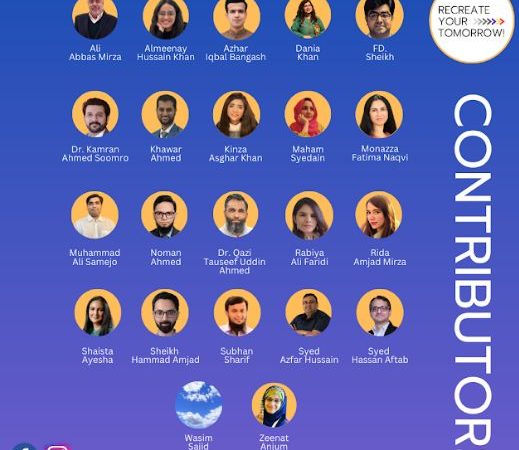 KARACHI, JUL 14 /DNA/ – A new e-book "Recreate Your Tomorrow: Unlock your potential to succeed by developing 100 top soft skills!" has been released. Authored by Muhammad Omar Iftikhar, the book explores the significance of acquiring soft skills. The book showcases wisdom from twenty-two industry experts and professionals from Pakistan, who share their experiences through insightful articles. The book adopts a straightforward structure, wherein it defines each skill and offers actionable guidance on how to cultivate it. It also provides insights on when and where to effectively apply these skills. "Recreate Your Tomorrow!" has been launched in July to coincide with World Youth Skill Day, celebrated on July 15th.
Omar Iftikhar, a seasoned writer, shares 100 top soft skills the youth must learn, acquire and develop to gain a competitive edge in a rapidly changing world. Recognizing the significance of soft skills in today's active work environment, the book delves into key areas such as accuracy, adaptability, body language, compassion, courtesy, diplomacy, mind-mapping, persistence, prioritizing, and teamwork among others.
The Foreword has been written by Shaista Ayesha, CEO and Director, SEED Ventures. She writes that "The importance of this book cannot be overstated, especially in the context of our local environment. A distinctive aspect of Omar's book is its local origin. A manual for soft skills development, created by a Pakistani author for Pakistani youth, has its unique value." Commenting on the book, Omar said, "I wrote this book and compiled articles from industry experts for Generation Z and Generation Alpha, who are well-versed in digital technology. They should also equip themselves with soft skills to address, approach, manage and resolve the challenges they will have to deal with in life and career."
Industry experts who have shared their articles in the book are Ali Abbas Mirza (Education Marketing, Advertising, Sales), Almeenay Hussain Khan (Client Solutions), Azhar Iqbal Bangash (Debater, Public Speaker), Dania Khan (Technology Entrepreneur), FD. Sheikh (Chartered Accountant), Dr. Kamran Ahmed Soomro (Social Entrepreneur, Academician), Khawar Ahmed (Insurance Advisory Consultant), Kinza Asghar Khan (Author, PharmD), Maham Syedain (Psychologist and a Content Specialist), Monazza Fatima Naqvi (Visual Artist, Educationist), Muhammad Ali Samejo (Training and Development Facilitator, Author), Noman Ahmed (Trainer of Educational Materials), Dr. Qazi Tauseef Uddin Ahmed (Medicine, Education, Management Sciences), Rabiya Ali Faridi (Trainer, Librarian), Rida Amjad Mirza (Communications), Shaista Ayesha (Social Entrepreneur), Sheikh Hammad Amjad (Corporate Executive, Consultant), Subhan Sharif (Corporate Training Specialist), Syed Azfar Hussain (Startup Coach, Mentor), Syed Hassan Aftab (Academician, Advertising Professional, Career Counselor), Wasim Sajid (Painter and Musician), and Zeenat Anjum (Entrepreneur).