RCCI inks MOU with White Ribbon Pakistan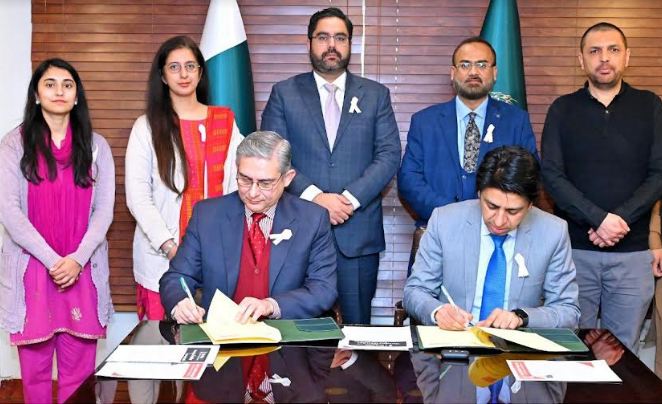 DNA
Rawalpindi: The Rawalpindi Chamber of Commerce and Industry (RCCI) inked a Memorandum of Understanding (MOU) with the White Ribbon Pakistan. The main purpose of the MOU was to eliminate domestic violence particularly violence against women and patriarchal mindset prevailing in the society.
President RCCI Saqib Rafiq and Omer Aftab, Founder/President White Ribbon Pakistan signed and exchanged the MOU documents at a ceremony held at Chamber house.
Senior Vice President Muhammad Hamza Sarosh and members were also present on the occasion.
Saqib Rafiq, said that there is a need to work on gender equality at the workplace and create a productive environment in business communities.
RCCI platform is available for policy advocacy and to bring more awareness about various laws and amendments to counter gender-based discrimination, violence against women, and economic and social empowerment of women.
He suggested nationwide campaign shall be initiated asking men from all occupations to pledge their allegiance to eradicate violence against women in every possible form.
RCCI is also a supporting partner with White Ribbon Workplace Gender Inclusion Awards 2023, he added.
Omer Aftab, Founder/President White Ribbon Pakistan said that White Ribbon Campaign is a movement of men dedicated to ending violence against women and girls. By addressing society's and individuals' patriarchal mindsets, we are addressing the issue of violence, he said. To effectively challenge the unfair power relations which promote gender-based violence, men must join with women to create awareness about women's rights, he further added.