RCCI delegation calls on Minister Information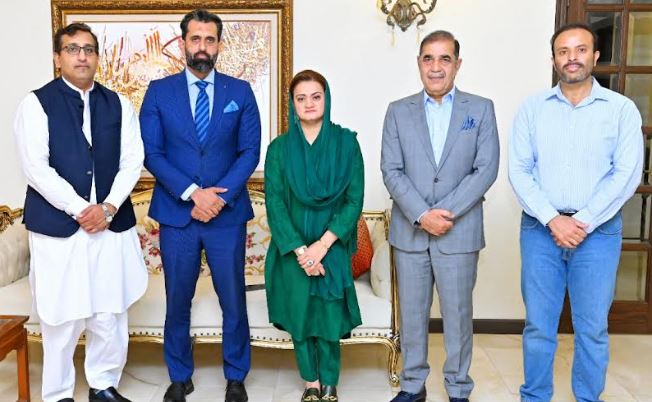 Rawalpindi: /DNA/ – A delegation led by Rawalpindi Chamber of Commerce President Nadeem Rauf called on Information and Broadcasting Minister Maryam Aurangzeb in Islamabad here on Monday. The delegation included group leader Sohail Altaf, president of the small chamber Sheikh Asif Idrees and chamber member Ikram Abbasi.
Talking to the delegation, Information Minister Maryam Aurangzeb said that the top priority of the government is to provide a conducive environment for trade and business. Pakistan's economy is facing many challenges, the business community is the backbone of the country's economy, she added. Welcoming the suggestions of the private sector and the Chamber of Commerce for the economic revival, she lauded RCCI for planning to arrange the Gems, Jewelery and Fashion Exhibition.
Chamber President Nadeem Rauf briefed Federal Minister Maryam Aurangzeb on the ongoing activities of the Chamber.
He said that more than 50 stalls would be set up in the 3rd RCCI Gems & Jewelery Exhibition. Exhibitors from all over the country are participating in the exhibition.
Group Leader Sohail Altaf said that the business community is deeply concerned over the current situation of economic and political uncertainty. He urged the government to take stakeholders on board and devise policy in consultation with the business community.
The exhibition will be held from May 20 to 22 at a local hotel in Islamabad.