Rawalpindi city faces severe water shortage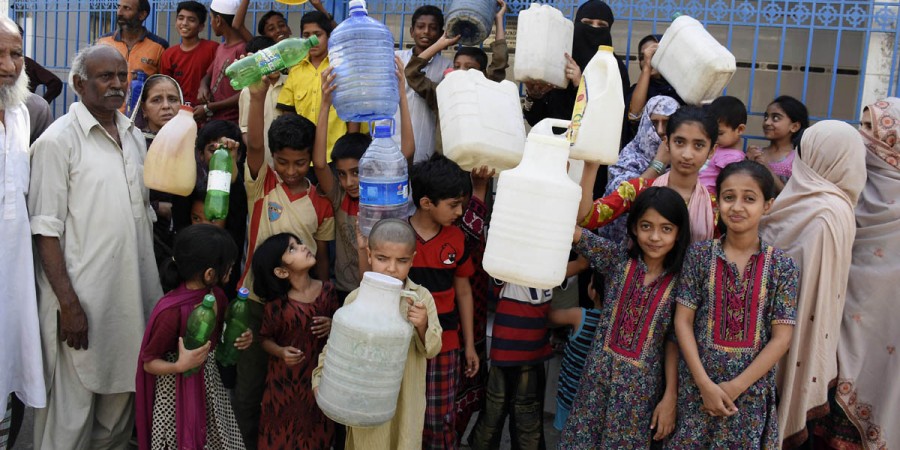 RAWALPINDI, 07 JUNE, (DNA) – The water shortage is worsening in many areas of the city, including Pirwadhai, Khayaban-e-Sir Syed, Dhoke Ratta, Dhoke Matkal, Dhoke Hassu, Adiala road, Jarahi stop, Shah Khalid Colony, Raja Akram Colony, Faisal Colony, Fazal Town, Dhoke Banaras, Dheri Hassanabad and Sadiqabad, where residents are moving from one place to a series of places to get water for the domestic usage.
"The tube wells in the area are supplying contaminated water due to which there is no drinking water for last three days. It is really hard to face water problems especially after the start of Ramadan and in the face of extreme hot weather," said Taimoor, a resident of Khayaban-e-Sir Syed. The in-charge of water supply section of Water and Sanitation Agency (WASA) in Khayaban-e-Sir Syed, Shaikh Saqib, said there are two tube wells operating in the locality due to which soil comes to the surface of the water bed.
He said they would operate one tube well at a time that would help remove contamination from the drinking water in the area. The residents of Dhoke Ratta are facing water shortage for last three days as most of the tube wells are not supplying water during scheduled hours.
"We are not getting water from the tube wells for last three days and every time we approach the concerned authorities they say that the issue would be resolved soon," said Khursheed, a resident of Dhoke Ratta.
A resident of Adiala road, Haji Waheed, said: "No arrangements were taken to provide water," and added, "We have to fetch water from far flung areas to meet the daily needs". He further added that: "We simply can't afford a water tank, which is both costly and unaffordable and we have to pay Rs 1,000 twice in a week to get water from this source".
Another resident of the locality Haseeb Bhatti said that they registered many complaints, but the authorities have kept their eyes shut over this grave issue.
The residents urged the authorities concerned to take serious action and provide water on a priority basis.
On the other hand, Water and Sanitation Agency (WASA) said that steps have been taken to improve the water supply in these areas. =DNA
============