Quetta Carnage Report: Opposition demands Chaudhry Nisar's resignation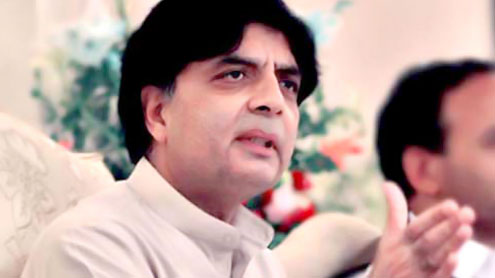 KARACHI,DEC 17, (DNA) –  After a report of Justice Qazi Faez Isa inquiry commission into the August 8 carnage in Quetta, furious opposition leaders were demanding that the Interior Minister Chaudhry Nisar Ali Khan be removed from his post.
The report that surfaced on Friday criticised the role of the interior ministry and said it was working without a clear leadership and vision.
It regretted that Interior Minister Chaudhry Nisar on October 21 met Maulana Mohammad Ahmed Ludhianvi, the head of three banned organisations — Sipah-i-Sahaba Pakistan, Millat-i-Islamia and Ahle Sunnat Wal Jamaat — to listen to his demands and conceded to them as per the media reports.
The commission report also recommended an immediate ban on the groups who accept responsibilities of terrorist acts and demanded stern actions against them.
Khursheed Shah, the opposition leader in the National Assembly and senior leader of Pakistan People's Party (PPP) also submitted an adjournment motion against Nisar in the National Assembly Secretariat, saying the interior minister was powerless to play a role in combating terrorism.
PPP's Aitzaz Ahsan also vowed to raise the issue in the parliament, terming the report an open charge sheet against the interior minister.
Chairman Pakistan Tehreek-i-Insaaf (PTI) Imran Khan offered that either Chaudhry Nisar must present his stance on the commission report or he must resign immediately.
Speaking to media representatives in Lahore, Khan said Justice Qazi Faez Isa's report actually showed the incapability of the present Pakistan Muslim League-Nawaz (PML-N) government in the centre.
The head of MQM (Muttahida Qaumi Movement) Pakistan Dr Farooq Sattar also expressed his reservations on the implementation of the National Action Plan (NAP).
On October 6, the Supreme Court of Pakistan had appointed Justice Qazi Faez Isa to head a judicial commission entrusted with investigating the August 8 suicide attack at Quetta's Sandeman Hospital that claimed 74 lives, mostly lawyers.=DNA
==============