Qamar, USTR holds dialogue on wide spectrum of trade, investment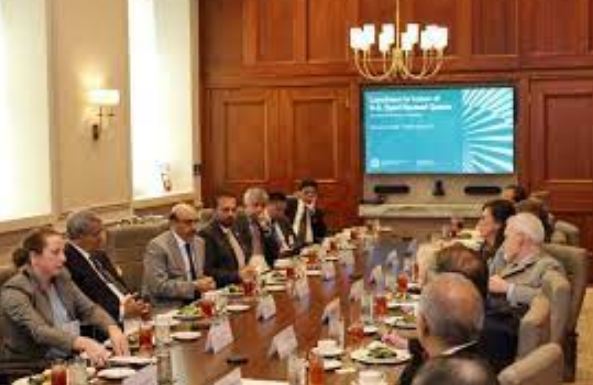 ISLAMABAD, Feb 25 (DNA): Federal Minister for Commerce Syed Naveed Qamar and United State of Trade Representative (USTR) have held a fulsome and comprehensive dialogue focusing on wide spectrum of trade and investment issues of mutual interest including agriculture, textiles, digital trade, enhancing market access, cooperation on good regulatory practices including intellectual property and labor rights, and women's economic empowerment and entrepreneurship.
The federal minister led the Pakistani delegation comprising Secretary Commerce Muhammad Sualeh Farruqui, Secretary BOI Asad Rehman Gilani and senior officials of Ministries of Commerce and National Food Security to participate in the 9th Pakistan-US Trade and Investment Framework Agreement (TIFA) Council Ministerial meeting, said a press release issued here Saturday.
The US side was led by United State of Trade Representative (USTR) Ambassador Katherine Tai.
Key issues discussed by our side included enhancing exports of Pakistani mangoes and dates to the US, increased market access for our textiles, increasing US investments in Pakistan's agriculture sector especially, in development of hybrid, climate resilient seeds and supporting Pakistan's IT and tech industry.
The two sides agreed to have regular follow-up engagements during 2023 to ensure progress on all issues and achieving tangible results.
They also agreed to convene the next TIFA Council Ministerial meeting in Islamabad in early 2024.
Two Joint Statements, one on the TIFA Council Ministerial meeting itself and the other on US-Pakistan Efforts in Promoting Women's Economic Empowerment were issued after yesterday's meeting.
The last TIFA Council meeting was held in 2016. The convening of this meeting after seven years makes it an important milestone for robust bilateral engagement process this year, which has seen dialogues on a number of issues and still more dialogues are scheduled in coming weeks, including on energy and climate change.
The TIFA Council Ministerial meeting reflects mutual understanding and commitment on both sides to pursue a broad based agenda and making mutually beneficial trade and investment ties an important pillar of the bilateral relationship.
This is a momentous opening that will have positive impact on other dialogue process.