President of Azerbaijan receives Minister of Defence Production Zobaida Jalal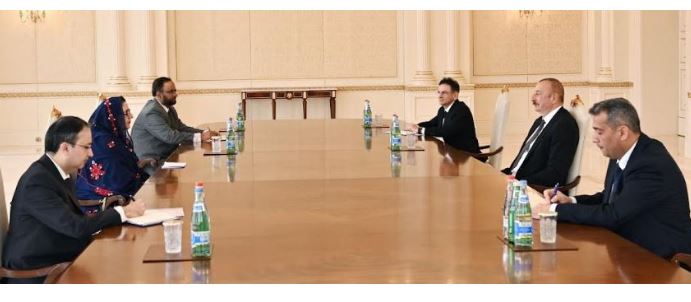 BAKU, NOV 30: President of Azerbaijan received the Minister of Defence Production Ms. Zobaida Jalal President of the Republic of Azerbaijan H.E. Mr. Ilham Aliyev received the Minister of Defence Production Ms. Zobaida Jalal at the Presidential Palace, this morning. President Ilham fondly recalled his recent meeting with President of Pakistan Dr. Arif Alvi in Ashgabat to further strengthen the brotherly ties between Azerbaijan and Pakistan.
He hoped that the meeting of the Joint Ministerial Commission in Baku would help deepen our ties in all areas.Minister Zobaida Jalal conveyed the greetings & good wishes of Pakistani leadership to the President and people of Azerbaijan. She assured President Ilham of having comprehensive discussions with her counterpart Minister of Defence Industry to review the entire gamut of bilateral relations.
Minister Zobaida Jalal also thanked the President for extending continued support on the issue of Indian Illegally Occupied Jammu & Kashmir. The Minister congratulated the President and the people of Azerbaijan on the first anniversary of the victory in the Patriotic War. The Minister stated that as per vision of Prime Minister Khan, Pakistan was committed to diversify this relationship and building an enduring economic partnership between the two brotherly countries with enhanced focus on trade, connectivity, digital technology and infrastructure development.
The Minister appreciated the leadership of the President Ilham for the reconstruction and rehabilitation in the liberated areas including the fast pace of development activities. She stated that Pakistani companies would like to contribute in the reconstruction phase of Azerbaijan.President Ilham noted that Azerbaijan is looking forward to strengthen relations with the brotherly Pakistan in all sectors including defence, economy, trade and people to people relations. He reiterated Azerbaijan's position to support Pakistan on the just and legitimate stance regarding the issue of Jammu & Kashmir. Azerbaijan will continue to extend its support for the resolution of Jammu & Kashmir dispute in accordance with UN resolutions, he remarked.