President for concerted efforts to boost ties with France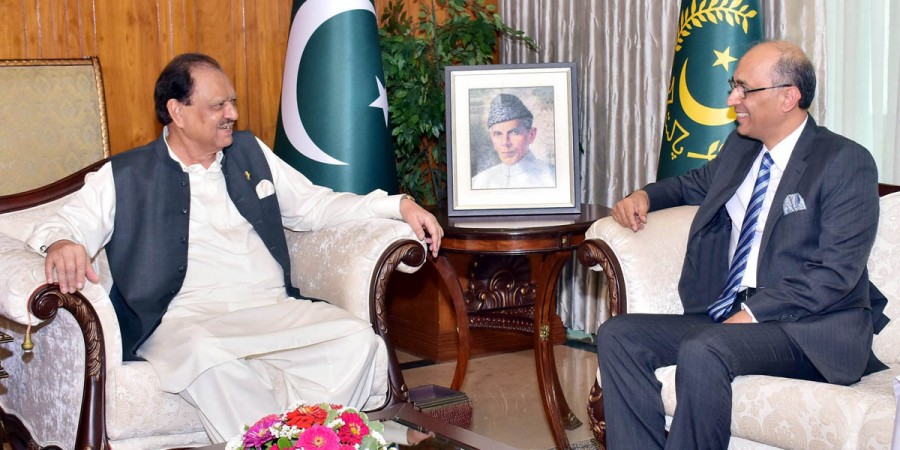 ISLAMABAD, 14 JUNE (DNA) – President Mamnoon Hussain Tuesday directed the Ambassador-designate to France for motivating investors to take benefit from the economic policies of the government in diverse areas especially renewable energy, communication and infrastructure by apprising them about investor friendly atmosphere.
According to a press statement issued here Tuesday, he said that Pakistan has friendly and cordial relations with France and it is necessary to maintain close contacts with the French opinion and policy makers to further deepen existing ties.
The President said this while talking to Ambassador-designate of Pakistan to France Moin ul Haque who called on him at the Aiwan-e-Sadr. President Mamnoon emphasized that responsibilities of ambassadors have increased manifold to protect national interests, project soft image of the country and hone their skills to address complex issues of the modern age.
The President stated that France was playing an important role in the international affairs and "Pakistan attaches great importance to its relations with it". President Mamnoon said that France was a reliable partner assisting Pakistan in various sectors.
He directed the Ambassador-designate to apprise the French Government, think tanks and other relevant institutions about Pakistan's efforts and sacrifices for elimination of terrorism. President Mamnoon expressed Pakistan's desire to build a broad based, substantive and long-term relationship with France in all fields including trade, investment, commercial, economic, defence, security, education and culture.
He said that ample opportunities exist to further enhance bilateral trade between the two countries for which concerted efforts need to be made. President Mamnoon emphasised upon the need for regular exchange of delegations in different fields of life to further strengthen bilateral relations between the two countries.
He urged the Ambassador-designate to take effective measures for the welfare of Pakistani diaspora in France. DNA