President Erdoğan to earthquake victims: We will never leave you alone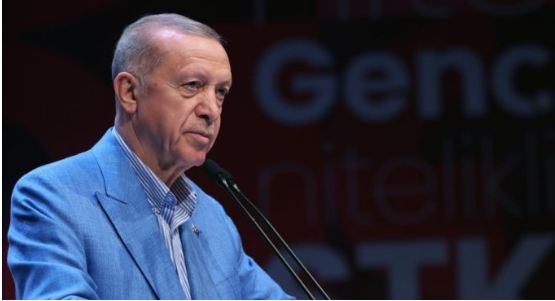 In his message to the earthquake victims, Türkiye's President Recep Tayyip Erdoğan said: " "We reject the fury of resentment and hatred carried out by certain circles against our wounded people, just because the result they expected did not come out."
"Regardless of their political views, I would like to express my heartfelt gratitude to all my brothers and sisters in the earthquake zone who went to the polls after the catastrophe on February 6 and showed their choice through democratic means. We respect the nation's will manifested through ballot box." Erdoğan added.
President Erdoğan continued his speech by saying: "Our duty is to serve all citizens with love and without discrimination, and we have been committed to fulfilling this duty for 21 years. We firmly denounce any expressions of anger, resentment, or hatred directed towards our fellow citizens who have been affected by the earthquake, solely based on the outcome of certain expectations. Instead, we believe in the power of unity as the state and the nation come together to swiftly heal our wounds. With gratitude to Allah, we remain dedicated to providing support and assistance to those in need during this challenging time."
"We take pride in our accomplishments thus far in providing support to the earthquake-affected provinces. Over 910 thousand tents and 117 thousand containers have been installed, providing temporary shelter for those in need. Additionally, approximately 13 thousand workplaces have been established to facilitate the recovery process. Despite the challenges, we have successfully completed the Hatay Defne State Hospital within a remarkable timeframe of 57 days, despite the misleading information circulated by certain opposition parties. Looking ahead, our aim is to continue the effort and ensure that you are able to move into your new homes by the upcoming months of October and November. Your well-being and security remain our top priorities as we work towards a brighter future together." Erdoğan emphasized.
"Our commitment to rebuilding and providing permanent housing for those affected by the disaster remains unwavering. A total of 650 thousand disaster houses will be constructed, with 319 thousand of them scheduled to be completed within the first year. I urge you to keep your hearts open and refrain from despair or pessimism. Embrace life with determination and resilience as you continue to protect your cities."
"Remember, we stand by your side every step of the way. With the grace of Allah, we will never abandon you or allow you to face hardship." said President Erdoğan in conclusion of his message.