President confers Hilal-i-Pakistan award on Chinese vice-premier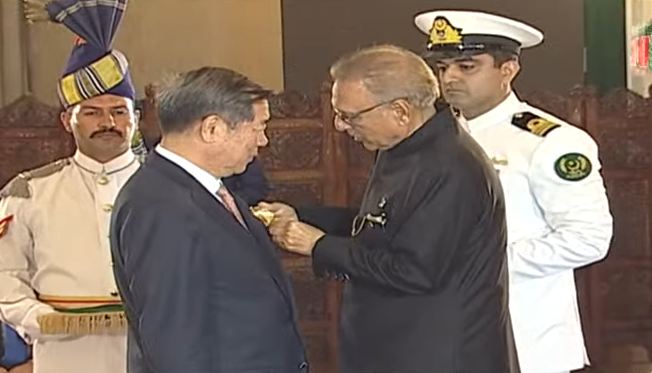 DNA
ISLAMABAD, JUL 31: President Dr Arif Alvi on Monday conferred the Hilal-i-Pakistan award on Chinese Vice-Premier He Lifeng, in recognition of his contribution to the Pakistan-China friendship and promotion of the China-Pakistan Economic Corridor.
The award was conferred at a special investiture ceremony held at the Aiwan-e-Sadr and attended by Prime Minister Shehbaz Sharif, services chiefs, National Assembly Speaker, Senate Chairman, federal ministers and parliamentarians.
Conferred on both Pakistanis and foreign nationals, the Hilal-i-Pakistan award is meant to recognize those people who have made a meritorious contribution to the national interests of Pakistan.
At the outset of the ceremony, the national anthems of both countries were played.
At the invitation of the Government of Pakistan, the Special Envoy of President Xi Jinping, the Vice Premier of China and Member of the Politburo of the Central Committee of the Communist Party, is visiting here to attend the 10th-anniversary celebrations of China Pakistan Economic Corridor (CPEC).
He has played a prominent role in China's international economic relations and implementation of the Belt and Road Initiative, of which CPEC is a flagship project.
As the Chairman of the National Development and Reform Commission (2017-23), he was instrumental in the planning and execution of multiple CPEC projects in Pakistan.
Being a great friend of Pakistan, He Lifeng worked for industrialization and socio-economic uplift of Pakistan, besides helping the execution of energy projects.