President announces 20-point consensus guidelines for congregations during Ramazan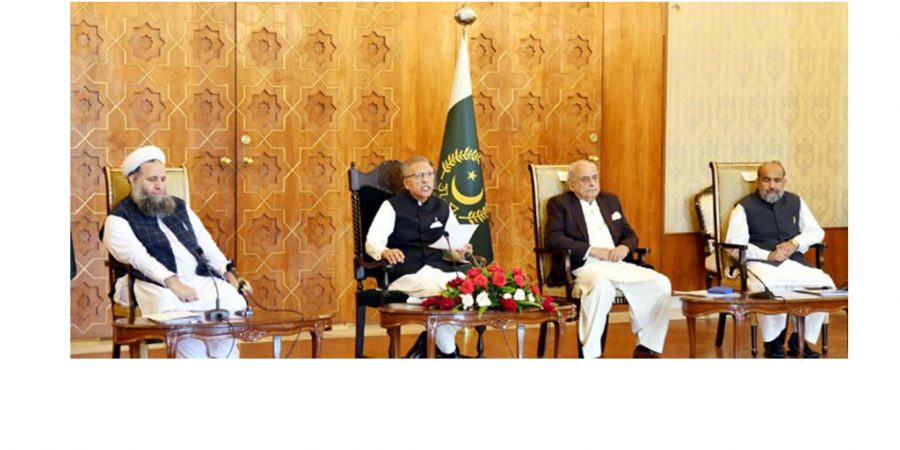 ISLAMABAD, Apr 18 (DNA): President Dr. Arif Alvi Saturday in complete consensus with Ulema announced a 20-point strategy, containing guidelines for congregations at Masajid and Imambargahs during the Holy month of Ramazan, advising the faithful to keep sticking to the precautionary measures while performing the religious obligations without dropping the guard against the Coronavirus pandemic.
The president made a joint announcement after chairing hours long consultative meeting with all the provincial governors, president Azad Jammu and Kashmir, governor of Gilgit Baltistan, and Ulema from all provinces at the President House via video link.
According to the announcement, the use of rugs and carpets in the Mosques and Imambargahs should be discarded whereas the floors should be properly disinfected with use of chlorine mixed water. Congregation and Taraweeh prayers should be held in the open spaces adjacent to the Mosques and Imambargahs.
Other significant points included; people older than 50 years of age, those suffering from flu, cold and cough symptoms and young children should avoid visiting Mosques and Imambargahs.
The faithful were encouraged to bring with themselves rugs and small mats. Stress was made upon social distancing and avoidance of gatherings after prayers time.
Ablution should be performed at homes with frequent adherence to hand washing as advised.
A distance of about 6 feet among faithfuls should be maintained during prayers. The announcement also contained a sketch of how people should occupy places while offering prayers. Taraweeh and prayers should not be offered at foothpaths and roads.=DNA
=======